Why Target Might Be the New Hangout Spot for Teens
Imagine having a store where you can buy everything from school supplies to groceries, and even Starbucks coffee. Well, we do have one, and that store is Target. We all know Target as a huge retail company that has stores all over the United States, but its also become a go-to place for high school students to hang out.
The store has also become a popular trend on social media platforms, like TikTok, where users can find videos recommending shopping ideas and items to look for at Target. Some teenagers have found an enthusiasm for Target and enjoy going there during their free time.
"[Target has] been an important part of my life for as long as I can remember. It has pretty much anything you can think of that you may need," said senior Sabrina Bierman. "For back to school season, Target is always the first place I go to get my supplies."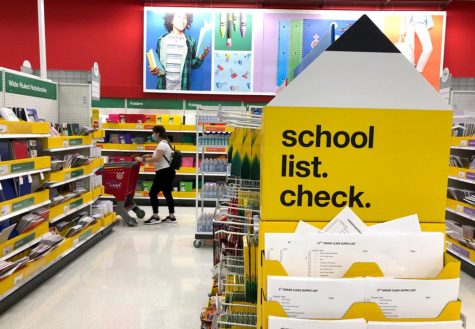 Not only is Target perfect for school supplies, but there are also an unlimited amount of snacks available at the store. Shoppers can stock up on their favorite foods and even try some new ones out. 
Junior Alexandra Valiente usually goes to Target with her friends and family. Valiente believes that Target helps relieve stress in the simplest of ways. 
"The colors and everything are so bright it sort of lifts my mood up in a way," Valiente said, "Targets are usually around other places like restaurants, so it's so convenient."
The store is full of a variety of sections, like technology, clothing, decorating essentials, and groceries. Junior Susie Gascon often goes to Target to browse what the store offers. 
"It literally has everything. If you feel like doing arts and crafts, go to Target. If you want to bake, go buy your supplies at Target," Gascon shared. "I go with my friends, my cousins, even myself sometimes just to walk around and relax."
From Starbucks to Pizza Hut, books, school supplies, and more, teenagers find Target's welcoming and friendly environment an easy and fun place to shop.