New School Year Brings A New Level of Spirit
After a year of hybrid learning, events are back at the Upper School campus, and students have already shown how eager they are to show their school spirit.
Students saw school spirit return at the White Out football game on Thursday, August 19. The Blue Zoo was packed with students dressed in white, cheering on their team, while jamming to the music played by the live DJ. 
"Students were really into the game," said Athletic Director Ira Childress. "We have a lot of cool theme nights and theme days planned, as well as different unique ideas with the Blue Zoo to get students involved in the games. We have a DJ. We'll continue that through all the sports throughout the year."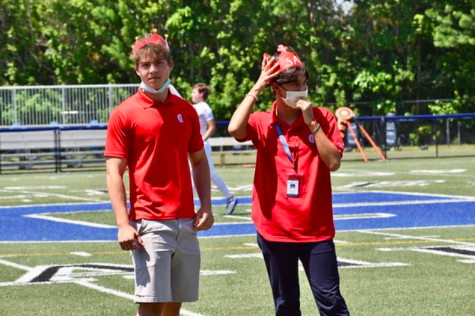 The White Out game was the first of many events on campus. Last Thursday the Parents' Association hosted a "welcome back treats" event, and pep rallies will soon make a comeback.
"I'm looking forward to finally having the school together for a pep rally because last year we did not have the ability to do that," said sophomore EllaRose Delgado. "I'm also really excited to attend [sports] games, even games that are away and are not home."
Although COVID-19 is still a prevalent concern, students are able to get their spirit back on, while following established safety protocols. 
"In all honesty, I still feel a little nervous about attending school events while COVID is still out there. With the Delta [variant] around, it is a little nerve-wracking to be in spaces with lots of people," said sophomore Rania Ishoof. "But despite this, I'm still ready to have fun and do my best, while still erring on the side of caution at these events."