Album Review | Come Get Lost with Tyler Baudelaire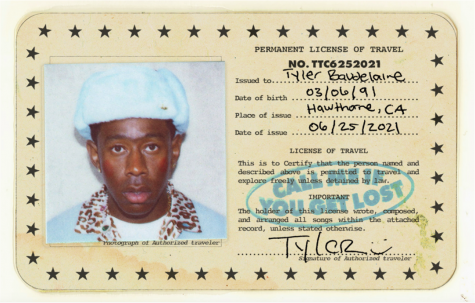 Over the course of six studio albums, world renowned artist Tyler Okonma— known as Tyler, The Creator — and Grammy award winner for the Best Rap Album of 2020 with IGOR has left his mark on the music industry time and time again. Having come a long way from his days of grime, including angst-filled rap and eating cockroaches for his music videos, he is still able to embrace his older style when it works best.
Tyler, the Creator's latest album, "Call Me If You Get Lost," is a perfect showcase of Okonma's mastery of blending different styles of music together within the realm of hip-hop. The album comes off as a hard-hitting mixtape, complete with the booming and animated voice of narrator DJ Drama, a man whose voice is a callback to the renowned mixtape series labeled Gangsta Grillz from back in the mid-2000s. This makes the braggadocious album all the better when fans realize it's been Okonma's dream to have created such a project since 2010, when the artist tweeted "I WANT A GANGSTA GRILLZ TAPE SO — BAD". In this sense, the album is the aspirations of a wild-headed kid finally being realized after so many years of hard work.
"Call Me If You Get Lost" isn't by any means only a traditionally bangerish hip-hop mixtape (Even though it definitely checks off all the boxes in that regard.) Mixed in too are the warm rhythms of steel drums and flutes which are strongly reminiscent of earlier works like IGOR and Flowerboy. The album has refinement and taste smoothed into it: all the signs of a man who's hit 30 and has traveled the world, having had time to mature in both his production and character. 
Still, many listeners have a gripe with one of the aesthetic touches of the album, which is the constant bragging found on most tracks (and only exemplified by DJ Drama.) While it can certainly be obnoxious, detaching, and even incurring of eye-rolls during surface-level listenings of certain tracks, it's when diving into the second half of the album that the music breaks off from its singular thematic one-liners and into an exploration of whether material wealth is capable of filling up the voids left by heartbreak.
"Remember I was rich so I bought me some new emotions / And a new boat 'cause I rather cry in the ocean," Okonma sings in CORSO. These lines give us a candidly surreal look into for which the wealth-worshipping verses on this album are placeholders. Behind the constant boasting, a story is also being painted about Tyler, The Creator fanning the flames to a love triangle only to have his heart shattered.
"I feel guilty, but not as much as I should
I tried to have that self-control, but not as much as I could
I been down for days, you in my city and I can't see your face
I can't eat knowin' you with him and not at my place
I never been jealous of another man
Especially when I have everything I want at hand
Except you, you"
There isn't a happy ending to the love plot, and by the end of the track Wilshire, Okonma has to finally admit "I guess you're just another chapter in the book." But if we know anything about Tyler, The Creator, this isn't his first time dealing with heartbreak. Previously, he dedicated the entirety of IGOR to the battle and eventual acceptance of his sexuality through the telling of a past relationship (also ending in heartbreak) with a male lover. So at least by the final track of CMIYGL, Safari he's back to spitting about his accomplishments with DJ Drama backing him up: "This what it sounds like when the moon and the sun collide."
"Call Me If You Get Lost" truly means something: it's the strongest example of a person having undergone an artistic and cultural transformation through true growth and heartbreak. It's the character of a person who holds onto all the best parts of his earlier works, all while embracing the new bits and flawlessly working that constant change into his art. The scariest part very well might be that Tyler, the Creator only continues to get better with every year added to his age. No one can begin to think of where he might go next and the stories he may paint for listeners.
"Come get lost with me, man, — come see the world
When you really get out there
Call me, I'll be there"
– BLESSED