Inside the Key Biscayne Beach Nourishment Project
On the island of Key Biscayne, as the stream of people who want to leave their homes due to environmental concerns steadily rises, many may see a sign that was put up in recent months.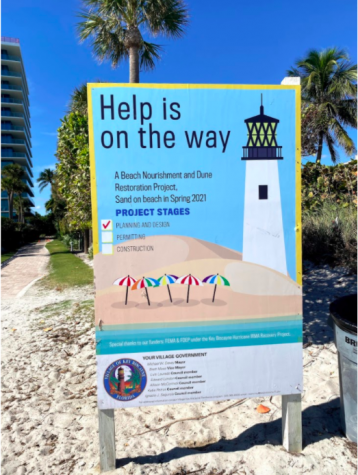 "Help is on the way"
What exactly does that mean? Is it referring to the problem of red tide, to the constant sludge of stinky seaweed, or to the withering dunes that lessen after every hurricane? One may assume the latter.
"At the most basic level, it's like the beach is constantly being eroded away," explained Roland Samimy​, Chief Resilience and Sustainability Officer. "So over time you have to sort of build the beach back up and you have to build the dunes back up." 
This process, known as beach erosion, occurs when wind and water remove sand from the beach, which over time can result in a drastic loss of land and sand dunes. Severe erosion can lead to extreme flooding, something with which many members of the Key Biscayne community are more than familiar. Coastal communities fight erosion by protecting and restoring sand dunes. 
Erosion doesn't just impact local communities, but also the ecosystem that exists around them. For local fauna, reduced beaches can mean habitat loss along with increased vulnerability to tropical storms.
When it comes to work on the project, islanders can expect to see construction around mid-March to mid-April. After the project is complete, which is expected to be around the spring of 2021, residents and beachgoers will be able to look forward to 30,000 cubic yards of new sand on Key Biscayne beaches. 
"That sand has to be dispersed and grated using heavy machinery," said Samimy. "So there is going to be a period of time — around three, four weeks where it's going to be an inconvenience for sure, but that's the price you have to pay for maintaining the beach."
Even then, these three to four weeks seem like a small sacrifice when it means many years of new and improved beach use and improved habitats for the local wildlife, not mentioning the people and property that will be protected by the dunes. Building the dunes back up also means getting rid of invasive plants.Overall, this is a project that will benefit every member of the Village of Key Biscayne and it will surely attract many beachgoers in the coming years.