Girls Weightlifting Heads to Districts After a Successful Senior Night
The girls weightlifting team competed in their final meet against Key West last Wednesday, clinching their spots for the district tournament.
"The meet was very smooth and it was great to have an audience to lift in front of for the first time, the girls did exactly as anticipated," said Coach Curt Johnson. Due to the COVID-19 pandemic, throughout the season there were no spectators allowed in the weight room and masks were required at all times. However, the team didn't let the changes affect their performance. 
The team looks to continue to succeed, led by senior Deshandra Perry, with a total of 400. Stand-out senior Kalei Ganser is third in her weight class, with a total of 195. Perry, Ganser, and the rest of the team are going to continue to work hard before they make their way to the Keys for districts on January 23rd.
"From day one until now, every athlete on our roster has improved tremendously," said senior Alyssa Jensen. Jensen has been an important member of the weightlifting team since her freshman year.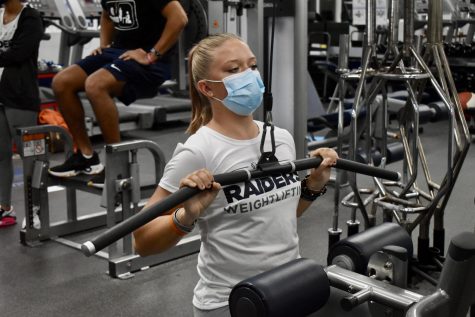 Additionally, celebrating their Senior Night along with the meet, the seniors all placed top 15 in their weight class. "Our seniors have done a great job leading by example. They put their best foot forward keeping everything in check during this time," said Johnson, speaking on behalf of the seniors. "Since they have all been there, they know what it takes to get to states and elongate their season. It's been a joy to watch them become leaders in their own unique ways."
The girls really are competing with their best lifts, and it should be exciting to find out the district meet results.