Raiders Suffer Heartbreaking Loss to Booker T. Washington, 34-31
After a close, nail-biting game against Booker T. Washington, the Raiders came up short by just three points, 34-31.
On just the first drive, the Raiders ran the ball down the field getting positive yards each time which then opened up an opportunity to throw the ball. When they got the chance, they took it and ended up scoring with senior receiver, Amin Hassan. Shortly after they tried the same tactic and scored again with Amin Hassan! These two drives and "The Dark Side" locking down the Tornadoes' offense in the first half shocked everyone in attendance and they knew it was going to be a good one. 
In the third quarter, the offense seemed to be in a slump and the momentum was in the Tornadoes' favor and was able to contain the Raider's high-powered offense to zero points in the quarter. A clutch field goal taken by freshman kicker, Will Bettridge, helped spark the momentum in the fourth quarter making the score 17-19 with the Tornadoes only leading by 2 points. But a lob from the Tornadoes' quarterback to the end of the endzone extended their lead again to 26-17.
The Raiders hadn't given up yet, with their offense coming out determined to score, they did with a fantastic play all-around. A perfect dime from sophomore quarterback, Carson Haggard, to freshman receiver, Jalen Brown, with perfect pass protection from the offensive line and the field goal from Bettridge was the recipe to put the quick 7 points on the board.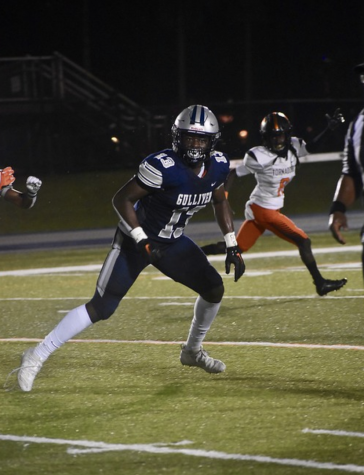 "We knew that this was one of the most important drives and that we had to score so we made sure everyone knew that if they did their job we would put up a touchdown." said sophomore offensive center, Brandon Brana.
With the Tornadoes picking up a fresh set of downs, the Raiders knew they had to make something happen in order to score again so sophomore linebacker, Travious Lathan, took it upon his hands to do it with a strip fumble on their 30-yard line setting the offense up for success. 
"We needed to get a turnover, so I kept that in mind and when I got the chance I poked the ball out and it worked well for us," said Lathan. 
On the first play back on offense senior runningback, Anton Hall broke for a touchdown giving the Raiders a 31-26 lead. The Tornadoes didn't lay down either, driving the ball down the field and scoring once again with a 2-point conversion making it 34-31 with 46 seconds left which would then be the final score when the Raiders couldn't convert on fourth down.
Win or loss, this game gave fans who came out and supported their money's worth does not translate the phenomenal season the Raiders had.