Raiders Crush Lions' Hopes of Ending the Undefeated Streak
Last Friday, the Raiders stormed through the Champagnat Lions with a final score of 35-21. It seems the momentum is yet to swing in the opponent's way as the Raiders are leading with a 9-0 season!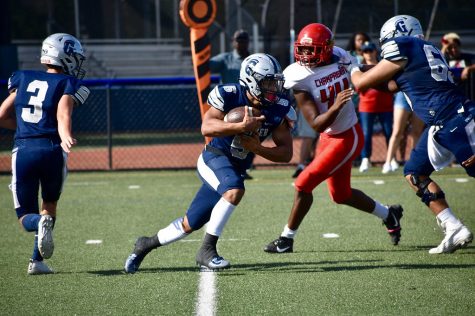 The defense — scoring once and holding a very talented Champagnat team to 21 points — made sure they did their job and then some. Sophomore linebacker Travious Lathan returned an interception all the way back to the house in the second quarter, which seemed to have sparked some confidence for the Raiders. The "Dark Side" held Champagnat's offense to just 52 rushing yards, thanks to senior defensive end, Donell Harris, who had 6 tackles, with 4 being for a loss of yard. Senior Gabe Taylor, contributed greatly as well, with an interception at the goaline to refrain the Lions from scoring, and 5 tackles, with one being for a loss. This quick and explosive defense lived up to their lockdown reputation in the second half, while the offense seemed to have struggled. 
"We came out and we executed in order to hold it down for offense in their ups and downs," said senior defensive end Donell Harris.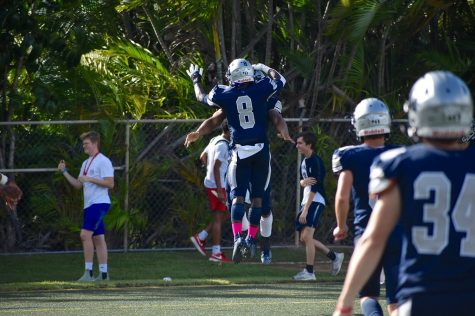 Offense scored three times in the first half with seniors Gabriel Taylor, Anton Hall, and Amin Hassan all getting in the endzone. Senior running back Anton Hall rushed for 133 yards on 20 attempts, breaking out for 28-yards to pound one in thanks to big men up front. On just 48 plays on the field, the Raider's high-powered offense had a combined total of 223-yards, 160-yards rushing and 63-yards passing, showing their dominance over the Lion's defense. Going into the postseason, this offense is an offense that South Florida football fans should keep an eye out for. 
"I feel like because we played well early we were able to come out with a win even though we played down to their level in the second half as an offense," said sophomore center Brandon Brana.
Special teams as well put 11 points on the board, proving that this Raider team dominated in all three phases of the game. Sophomore Will Bettridge made five field goals, as junior Juan Pablo Cortes scored a touchdown from a recovered punt in the first quarter. 
"As a long-snapper, it's my job to get the ball to the punter or holder so to get the opportunity to score a touchdown meant a lot to me," said Cortes.
From being the underdog to having a target on their back, the Raiders have proved a lot this season and are nowhere near done as they move into the play-offs.