Raiders Bring Home the Prep Bowl Trophy after Defeating the Belen Wolverines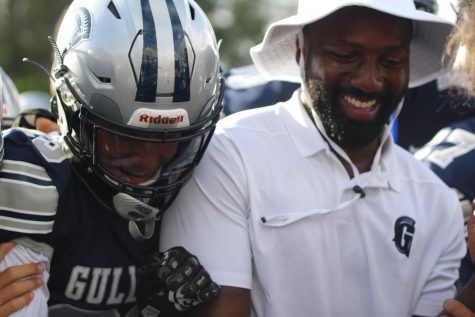 On Aug. 30, the Raiders pulled in a huge win in the first annual Prep Bowl against longtime rivals Belen Wolverines, with a final score of 45-16. With a blowout win against a team of this caliber, the Raiders displayed what the hype was all about. 
"We had gone 18 years without beating them and then stopped playing them for a year, so it was a statement game for us and to come out with the blowout win is amazing," said sophomore Justin Neyra.
The Raider's offense switched it up with running back starting freshman Sedrick Irvin, benefitting greatly from it as he scored once and ran for 68 yards. Although it may not have seemed like a lot, his performance shifted the momentum of the game and impacted it in ways not apparent in the box score. MVP Carson Haggard ran up the box score, with 16/20 completions, throwing for 262 yards and 4 touchdowns. His ability to see the field along with his ability to make quick decisions impacted the offense greatly, leading to the high scoring game and his receiving the MVP trophy. Haggard distributed the ball to receivers very well with Jalen Brown having 46 yards, Amin Hassan having 41 yards with 2 touchdowns, Treyvious Lathan with 16 yards and a touchdown, and Ulises Sarria with 30 yards.
"Every game we plan to come out with the same mindset which is to dominate in all 3 phases and to play together as a family," Haggard mentioned.
Defense was put to a great challenge playing against a 5-star running back that Belen's offense is built around. But they did not lay down, holding them to 168 yards rushing in total. Defense played very savage-like and aggressive in order to stop Belen's run-based offense. In the trenches, Westley Neal led the team in tackles with 8 tackles, 5 assists and 1 tackle for a loss of yards. Linebackers Treyvious Lathan, Jayvon Only and Dante De Rosa filled their gaps excellently, combining for 19 tackles as a linebacker group. The "Dark Side" proved their toughness mentally and physically in a key game which should serve as a scary sight for future opponents. 
The roars and cheers from the "Blue Zoo" student section added to the excitement and fueled the team, making the win memorable for players and spectators alike.
"This game was one of the best football games I've experienced in my time here at Gulliver," mentioned Mr. Soto.
The Raiders still have not scratched the surface of their potential and will continue to work hard in order to win the next game. Come show your support!