Dora Fails to Explore her Way Into Viewers' Hearts
Hang on for a minute...we're trying to find some more stories you might like.
In 2017, Nickelodeon announced that the kids hit show "Dora the Explorer" was making a comeback. The news took some by surprise, as it would no longer be a TV show, but instead a live action movie. Many were excited for it, but some went so far as to create petitions to cancel the production of "Dora and the Lost City of Gold."
As the movie unfolds, we learn that Dora as a kid, spent all her time in the Amazon Rainforest next to her best friends Diego and Boots, but when they were seven years old, Diego left the forest to go live with his family in Los Angeles. Years later, Boots is still by Dora's side as she's now a teenager. All her life, Dora's parents homeschooled her,  but when a new adventure shows up to find the city of Parapata, the lost city of gold, both decide that it's for the best if Dora goes to the city to spend time with family and go to school as a normal teen should. When she arrives at the Los Angeles airport we get our first glance at teen Diego, tall and skinny and definitely not the same Diego we see in the cartoon. 
Dora must go to school with her cousin Diego, and since she lived in the rainforest all her life, she has zero social skills and embarrasses her cousin. Students go on a school field trip to a museum where  they separate into groups of four. As no one picked Dora, Diego and other two kids — the class president Sammy and the "nerd" Randy — form a group. The four go off to explore the museum, where they come face-to-face with villains that kidnap Dora and her friends. Then we are brought to the forest where the adventure really starts, as Dora tries to find her parents before the villains. They face violent natives, quicksand, hallucinations, underwater traps, and have to solve multiple puzzles to find the lost city and save her parents.
The movie contains a lot of plot twists and just when you think the movie is about to end, there is another twist and the story continues, causing it to feel  long and tiring. Boots does not talk for the majority of the movie, only a mere minute, and he had a weird and deep voice that just did not match the cute monkey we are accustomed to in the cartoons. Diego is nothing like the show either, filling the role of a basic teenager throughout the whole movie rather than that of an explorer, and we only get a look into Backpack and Map for a quick second in the movie. The movie tried to be another high school drama hit, but it  failed in that aspect as most of the viewers were young children.
"Dora and the Lost City of Gold" was initially supposed to come out on July 31 but later pushed to Aug. 9. The movie is about being yourself, no matter what others think. Diego was ashamed of Dora in the beginning but later was really proud as she saved him and his friends from the forest. The movie was surprisingly not that bad and somewhat funny; after all the it was targeted for children, and at the theater I was at, they all seemed to really enjoy it. Isabela Moner (Dora) did a great job in portraying  the character, but I cannot say the same about the other actors and actresses. This is for sure a fun movie to watch if you get the chance. It will guarantee a few laughs. 
About the Contributors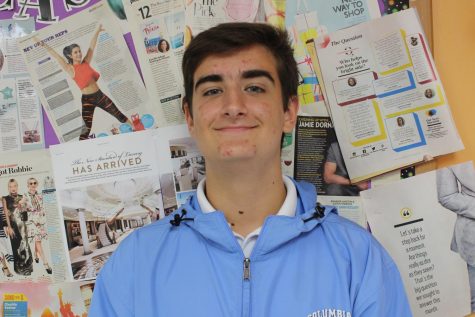 Pedro Schmeil, Video Editor and staff writer
I'm Pedro Schmeil, I'm from brazil and this is my second year on staff. I always enjoyed writing and I though Newspaper was the place for me. I'm...