Opening Football Game Against Coral Gables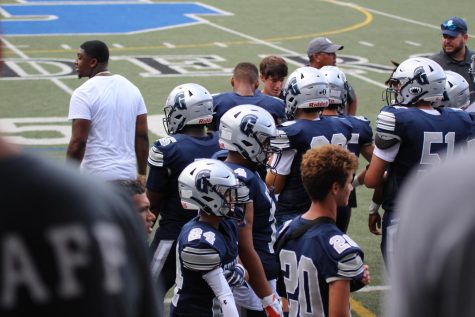 On Aug. 23, the Raiders came out victorious against the 8a powerhouse Cavaliers with a final score of 27-6. The Raiders dominated the Cavaliers in all three phases of the game, and the stands were more energetic than ever.
On the offensive side of the ball, the Raiders had 308 total yards, with 241 passing and 67 rushing. Early in the game, senior Amin Hassan drew first blood catching a 23-yard pass from quarterback Carson Haggard. In the third quarter, the Raiders were on a roll, scoring twice with junior Yulkeith Brown. Brown caught an incredible 50-yard pass from Carson Haggard with on-hand and took it all the way home as well with a 12-yard run. Late in the fourth quarter senior Ulises Sarria caught a 13-yard pass and scored to seal the game and crush any hope the Cavaliers had of winning. After the game, Haggard mentioned that the Raiders improved as a team from the kickoff classic and that he's focused on the next big game against Belen.
On the defensive side of the ball, the Raiders allowed 255 total yards, with 80 rushing and 175 passing. The Raiders were able to limit the Cavaliers' offense to 80 rushing yards due to that monstrous defensive line including Donell Harris, Westley Neal, Matt Antezana, Kareem Wilson and Bakari Edwards. Donell Harris ran the show recording 6 tackles, 2 sacks, and 4 tackles for losses. Anton Hall, Treyvious Lathan, Eddie Jackson, Javon Only, and Kareem Wilson all contributed greatly as well getting 2 tackles each. Harris hopes to fix the little mistakes the Raiders made moving on to the next big game.
The Raiders didn't spend too much time celebrating the win and instead took the field during practice preparing for their next opponent, the Belen Wolverines, on Aug. 30. The 19-year long rivalry between the two teams will ignite a fire for fans on both sides and the Raiders are prepared for the challenge, and ready to bring the Prep Bowl trophy home.