STEM students work towards facilitating lives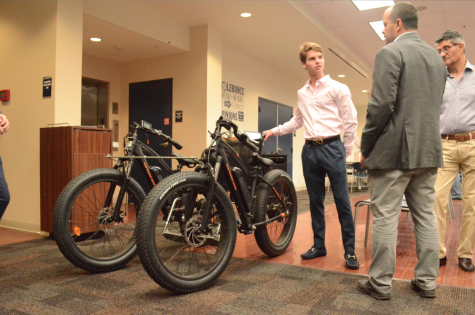 Students displayed projects under the Science, Technology, Engineering, and Math category at the annual STEM showcase on Apr. 9 in the Student Union. The event provided a look as to the variety of STEM projects students worked on  throughout the year.
BioMedical science, engineering, and computer science students created a variety of projects with the aim of facilitating people's lives and help the community. Projects included recycling apps, wheelchair devices, forensic science programs, and many more.
The showcase was filled with parents and administrators, serving as an opportunity for students to show the community what they have constructed in the past few months. A similar showcase took place in October, where students proposed their project ideas.
"Students had five months to develop this project and this was the day to celebrate that, to show, and demonstrate their projects," said engineering teacher Claude Charron
Some students' aim was to impact lives on a global scale, such as juniors Karen Liberman and Maria Luiza Amoedo de Sa, who came up with a game where girls can learn how to code in order to influence young girls to join computer programming.
"I was trying to find a game to get my sister interested in programming and I realized that there aren't any, all games are geared towards guys. It led to believe that there is a stereotype surrounding computer science and that its a field only for guys, and I really want to break that stigma by creating this game to get young girls to engage in computer science" said Liberman.
Others focused on local lives. Senior Nicole Nixon, and junior Andreia Escobar, presented an ongoing project in the engineering department where they're restoring an old Volkswagen bus to a fully functioning vehicle. Once restored, the vehicle will serve a purpose in our community.
"So far we've redone the seats completely, replaced the floor, and the steering column. We also have plans to add furniture and a motor. The entire project will be completely done next year and we will use it to show the potential of our engineering program and attempt to use it as transportation for students," said Escobar.
Most will now await the next couple of weeks for the Congressional App Challenge, a competition where students around the country present their project to the U.S. representatives for a chance to be displayed in the U.S. Capitol building among other prizes.