Prep Musicians bring audience to their feet at annual holiday concert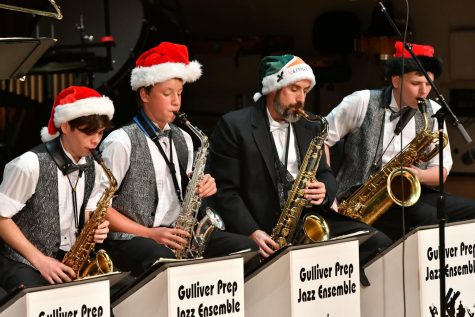 Students in the Prep Music Department showcased their hard work during Rejoice the Season, this year's holiday concert, on Saturday, Dec. 8, at the University of Miami's Maurice Gusman Concert Hall.
The first half of the concert featured the String, Vocal, and Wind Ensembles. Each ensemble performed several pieces individually, and the two final pieces of the first half included every ensemble. Between 600 and 700 people attended the concert, and enjoyed holiday music varying from "Rudolph the Red-Nosed Reindeer" to "Ave Maria." 
   "The holiday concert was gorgeous! The band sounded so in sync, and when Julia sang her solo? I cried," said junior Annabelle Kang, who attended the concert. 
   Two vocalists were also featured during the first half of the concert. Senior Kelly Ann Cosentino, a soprano in the Vocal Ensemble, sang Schubert's "Ave Maria" while accompanied by the Wind Ensemble, and junior Julia Izquierdo sang Hugh Martin's "Have Yourself a Merry Little Christmas" with the String Ensemble. Both girls brought the audience to their feet at the end of their solo performances.
   "Being able to incorporate operatic techniques and vibrato needs practice, but when you're ready for a performance everything comes together. I was honored to sing Ave Maria, and am thrilled that my classmates and I performed in unity for the Holiday Concert," said Kelly Ann Cosentino. 
   This year's holiday concert also involved the Prep Dance and Drama departments. Senior Grace Lyons performed a ballet solo to the Tchaikovsky's "Dance of the Sugar Plum Fairy," as played by the String Ensemble. Several other dancers also danced to Tchaikovsky's "Trepak," a Russian dance from "The Nutcracker" with the String Ensemble.
   Performances by the Jazz Ensemble were featured during the second half of the concert. Junior Brianna Romero accompanied the ensemble for the first time, earning her a standing ovation on her performance of "Santa Claus is Comin' To Town." The Prep drama department was also involved, treating the audience to skits from "The Grinch" and a Santa Claus performance by junior Raul Mederos.
   Collaboration between the three performing arts programs at Music Program concerts has not occurred for several years, and the change was embraced by students audience members alike.
   "I thought that it was a great way to bring together all of the performing arts programs together," said Eda Aker, a junior in the Dance Program who performed "Trepak" with the String Ensemble.
   "Including the dancers and actors was a great touch! I hope they decide to involve them for the Spring Concert too," said Lacey Buckwald, an audience-member. 
   The program's annual Spring Concert will be held on Saturday, May 4, 2019 at the University of Miami's Maurice Gusman Concert Hall.