Alums lend helping hand in community with Second Spoon Organization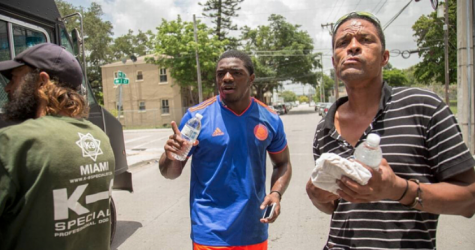 Raider Alums Mo Hasan and Robert Burns came together over a year ago looking for ways to save food that would otherwise be thrown away. Hasan is a student-athlete at Vanderbilt University, while Burns a student and football player at the University of Miami. 
   Hasan formed the non-profit organization now known as Second Spoon, where Hasan, the organization's president, and Burns, the vice president, head a program that gives food that would otherwise be wasted to Overtown residents on Saturdays. Those volunteering under Second Spoon hand out the food to the residents through a food truck. Hasan saw food being wasted at his former school, Syracuse, and wanted to bring his ideas of saving food and feeding it to the homeless back to his hometown. 
   The organization works with local restaurants to acquire this food and provide it to the residents of Overtown.
"When we first started out, we would literally go restaurant to restaurant, sending emails, just talking to people, whoever we knew," said Burns. "But now, [with] all the good press and coverages, people have actually been contacting us," said Burns.
The UM student-athlete says that they have more food than the organization can handle. He added that it's a 'good' problem to have. 
   When football season was in full swing, Burns found himself behind the computer, clicking buttons and sending emails, contrary to during the summer, where his many of his Saturdays were spent on the truck. During the season, Burns helped link a partnership with the University of Miami Athletic Department to bring in interested volunteers for the food truck during football season. 
    "We're partnering with student-athletes who are not fall athletes. [The] athletes that compete in the spring, they'll be able to do the runs for us and help out on the floors." Burns hopes to go back out on the runs with the truck after football season. 
   Burns has found the experience rewarding. "I get the best feeling in the world. Just being out there, being able to give back to people. I've never been homeless, but I do know what it's like to be hungry."
   Burns' sister, Sophomore Cindy Vega, has also found enjoyment while working with Second Spoon. When Burns told her about the organization, she wanted to do what she could to help out. 
"My favorite part is seeing the smiles on everyone's faces when you give them food, and [also] being able to support my brother," said Vega.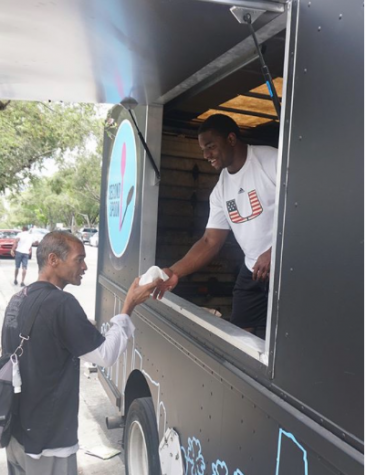 Vega says that the experience of working on the Second Spoon food truck is unlike others she has had, but still finds it rewarding.
"It's scary having to go through large groups of strangers and homeless people. It's a whole other world, but it's worth it in the end," said Vega.
   Many media outlets have shined light on the organization, and that has allowed for lots of growth. Vega says that not only does Second Spoon have more trucks, but with more restaurants familiar with Second Spoon, the organization is able to collect larger variations of food to distribute.
Mo Hasan, Robert Burns, and the Second Spoon Organization have found a way to turn a problem into a solution. The hope is that down the road, the issue of wasted food is gone.
About the Writer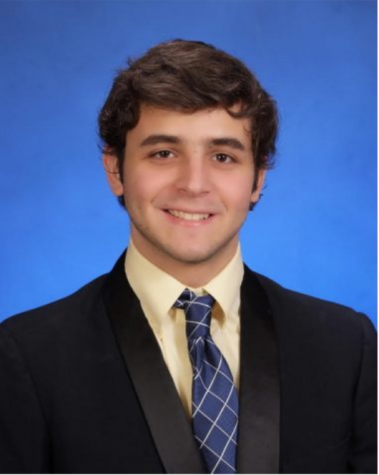 Zachary Letson, Editor in Chief
As a member of the staff for three years, my passion for a journalism career has blossomed over time. With the help of my advisor and peers, I've become...