Bohemian Rhapsody a Must See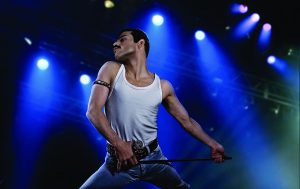 As the lights of the theater dimmed, an electric guitar solo began playing over the familiar 20th Century Fox logo, quickly followed by Queen's prominent tune "Somebody to Love." The song poured into the audience's ears as Freddie Mercury, played by the exceptional Rami Malek, made his way through his mansion getting ready for another show.
The movie suddenly shifts to the time Mercury was simply Farrokh Bulsara, a Heathrow airport baggage handler. As the movie unfolds, Queen is born and the history behind Mercury's bold personality is revealed. The previously known director of X-men, Bryan Singer, decided to cover 15 years of the band, leading up to Mercury's most important performance in the well-known charity concert, Live Aid.
The title of the movie is the name of one of Queen's most iconic songs, "Bohemian Rhapsody" — a six-minute masterpiece for which Mercury and his bandmates fought hard to turn into a single. While this song was the one audience members mostly likely came to hear, the film also features numerous hits including "Killer Queen," "Radio Ga Ga," "We Will Rock You," and many more.
The plot of the movie was very much what actually happened in real life. With just a few tweaks for cinematic exaggeration, the movie successfully portrayed Mercury's character development. Freddie Mercury was a shy, yet brave man that became on of the world's iconic entertainers. Much like any movie, there is a rise, a downfall, and a resolution, and the events that took place around Queen were perfect for this movie as they accurately depict that.
Even though I was very familiar with Queen and their music before walking inside the theatre, leaving it felt like I was part of a family, which was exactly what Mercury attempted to achieve throughout his career. In the movie, he stated that what made Queen so special is that it was a family of "four misfits who don't belong together playing for the other misfits," and there's nothing that brought that feeling home to me than being inside a theatre with so many  people singing uncontrollably along to Queen's songs.
I left the theatre feeling bittersweet, as if I had actually just left a Queen concert. Everything from the production — including the setting and costume — to the realistic acting by all cast members, to the emotional plot — left me in tears as I tried to collect myself enough to be able to keep singing.
Audience members stayed to watch the final credits while singing along to "The Show Must Go On," which gave everyone an opportunity to experience a real Queen performance.  For me, it felt as if Freddie Mercury came back to life.