Juniors Spend The Day Cleaning South Beach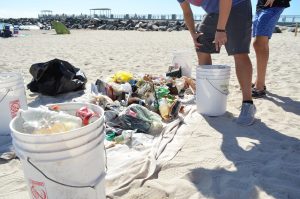 Juniors gathered at South Pointe Park alongside the Surfrider foundation for a beach cleanup day on Oct 26. They collected a variety of trash items, which students sorted into piles for recycling. 
Once they arrived at the beach, Surfrider representative Mike Gibaldi explained the importance of having a clean beach. Juniors then split into groups, concentrating on separate areas of the beach.
The foundation gave juniors buckets, gloves, and litter pickers to collect the trash. Juniors spent two hours filling their buckets with trash.
"It was crazy to look at our buckets at the end and see how much trash we collected. We found bottles, cans, plastic bags, and even a pair of flippers!" said junior Roberto Lugones.
The junior day class activity was geared towards community service as well as team building.
"It is an amazing activity that helps raise awareness of environmental protection and meanwhile promoting interpersonal relationship building," said Junior Emma Wang.
This activity was part of the yearly class field trip, freshman and seniors enjoy a fun day, while sophomores and Juniors take on a community service day.
"One of the reasons we have this field trip is so that the junior class does something together as a group, so that when they're seniors they can look back and thing 'remember when cleaned the beach last year' so that when they graduate there are memories to look back on" Said administrator Danielle Bowen.
After hours of cleaning and sorting, juniors had lunch and then has free time to hang out around the beach. Students were swimming in the ocean, laying out in the sun, or playing soccer and other games. Beach cleanup day was an earth conservation activity, but it also helped students team up to help make a difference.