Raider Football continues hot streak with homecoming win over John Carroll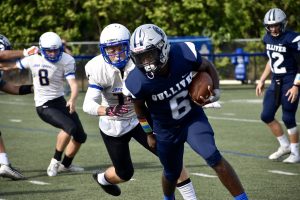 The Raiders saved their best for last in the team's final regular season contest, coming back from 10-point halftime deficit and defeating John Carroll Catholic High School 42-31 at the team's Homecoming game on Nov. 2. It's the fourth consecutive win for the Raiders, who move to 7-3 on the year.
On Senior Day it was Senior Quarterback Will Poses who shined in the win. The QB went 11/19 but made his 11 completions count, throwing for 342 yards and four touchdowns in his final home game. Poses helped turn the game around in the second half after John Carroll went into the halftime break with a 24-14 lead.
"The team realized that they weren't playing to their potential. We had a discussion at halftime. Some players added to that discussion. We didn't leave the locker room until we were ready to play how we knew we should." said Raiders Head Coach Earl Sims.
John Carroll came out swinging. After an early Raiders touchdown put the home team up 7-3, the Rams answered with a 97 yard touchdown run that propelled them out to a lead that they would not relinquish until the fourth quarter. The visiting team was able to hold on to a 10-point lead throughout the second quarter in large part due to turnovers. The Raiders turned the ball over four times before eventually finding a groove in the second half and pulling away.
Running Back Yulkeith Brown gave the Raiders offense life just as he as done all season long, taking a punt return to the end zone in the final quarter. The Sophomore also finished with three catches for 160 yards and a touchdown. Brown was coming off Offensive Player of the Week Honors in the South Florida Conference the week before and put up another performance that could warrant that selection.
The team moves on to the playoffs this week with a matchup at Pace under the lights at 7:30 Friday night.
"We have to prove that we've improved." Between offensive line execution and quarterback play, Sims said that every player has their own "benchmark" that needs to be accomplished for a victory.
It's been a remarkable season for the Raiders. After a heartbreaking loss to Champagnat, the team has turned the page and rattled off four straight victories.
"I'm so pleased with our practice and preparation the last couple weeks. It's an indication that we have gotten better in all phases. The young players that have gotten game experience, they've stepped up. We're playing our best football now. [We're] peak[ing] at playoff time," said Sims.
With elimination games the rest of the way this season, the trend will have to continue to keep the season going.