NBA Season Tip-Off brings excitement to fans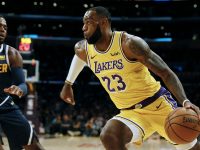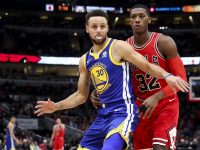 On Oct. 17, another NBA season tipped off and along with it came a plethora of headlines. Superstars LeBron James and Kawhi Leonard changed teams — and swapped conferences this past offseason. The Boston Celtics are poised to be serious contenders for their first championship in a decade. But the most important headline sits in Oakland with the Golden State Warriors. Can anybody dethrone the back-to-back NBA champs?
Led by Point Guard Kyrie Irving, the Celtics may be ready to be the answer to that question. Boston has young stars in Jayson Tatum and Jaylen Brown to go along with veteran big Al Horford and an excellent coach in Brad Stevens. The team was just one win from the NBA Finals a year ago.
The Philadelphia 76ers, who fell to the Celtics in last year's NBA Playoffs, have two young superstars of their own in Ben Simmons and Joel Embiid who drove Philly to a quick and surprising turn-around season after the Sixers had spent much of the past five years in the cellar. This team is poised to give Boston a handful once the postseason arrives.
The Toronto Raptors decided to shake things up after a franchise record 59-win season and a clinching of the one seed in the Eastern Conference. That sentence may not make a lot of sense if that's all that happened, but the Raptors saw their season come crashing down at the hands of LeBron James in a sweep to the Cavaliers last year in the Eastern Conference Semifinals. Toronto promptly fired head coach Dwane Casey and would later trade Toronto-beloved star DeMar DeRozan to the San Antonio Spurs.
In the wild Western Conference, the Warriors were sitting comfortably, having won two straight championships — and then added yet another star in center DeMarcus Cousins. Golden State now has a starting five that once Cousins recovers from a torn achilles will display five all stars, something no team has done in the NBA in over 40 years. NBA fans have become accustomed to Golden State's dominance, as the team has won three of the last four championships, and producing two of the biggest superstars that this game has to offer in Kevin Durant and Steph Curry.
The Warriors biggest threat in the Western Conference may be sitting in their own division, across the state, where LeBron James and a mix of young guys and veterans thrust the Lakers back into the league's elite. Golden State knows James all too well, having faced the superstar in the last four NBA Finals when he was a member of the Cleveland Cavaliers. Kyle Kuzma, Lonzo Ball, and Josh Hart became a young core that improved as last season ended, and with veteran adds of Rajon Rondo and JaVale McGee, King James has a team that can make some noise.
After an eventful offseason, the NBA has made it's long-awaited return and fans should get an exciting season.