New Year, New Coach: Neiditch Leads Varsity Volleyball into 2018 Season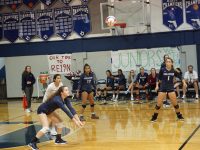 For the Lady Raiders, the new season brings along a new Head Volleyball Coach. Coach Gary Neiditch is energized to get to work through the season with his squad.
"I'm most excited to see almost a month of work come together. I'm excited for the girls to go play in games after practice after practice. I think they're chomping at the bit to play," said Neiditch.
One important component to team success this year will be leadership. Although Neiditch believes that some leaders are "to be determined," the head coach already had a few names in mind. Seniors Carly Wood, Stephanie Potter, and Junior Isabella Sakran are some players Neiditch hopes can step up this season.
Wood, a veteran on the team, hopes the team can contain a strong chemistry with one another. "Last year we were really good at working together, and communication was a key quality," said the senior. "Another strength is our drive to want to play. We all want to be out on the court and win. With that demeanor we will be great."
The team not only welcomes a new coach, but also numerous new faces on the roster.
"The main challenge that we will face this year is working together because it's a new team and a lot of new girls, so we have to learn a way of playing with everyone," said Wood.
The regular season began with games on August 24 and 25, as the team lost the season opener to Divine Savior, but came out on top against Key West, winning in a quick three sets.
The win marks game two of a 13-game regular season that goes through mid-october.
"I'm extraordinarily competitive and I love winning, but I really want these girls to enjoy their season, to get better as players, and to feel like it's a positive experience." said Neiditch.
Wood values the experience with her teammates paramount as well.
"My favorite part about playing on the team is making friendships that will last forever," she said, "because it's like a second family to me."