Brockhampton Breaks Out
Romina Shadravan
April 26, 2018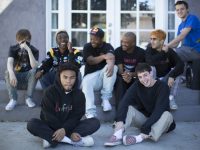 The release of Brockhampton's three studio albums — Saturation I, Saturation II, and Saturation III, in 2017 lead to the boy band's rapid rise to success.
With each song on their albums ranging in genre, fans of alternative, hip-hop, and rap have come together with this new sound in music. Embracing all of their differences, they have captured the eye of many young fans. There have been countless stories on the inspiration they have been giving teenagers due to their outward message of acceptance and tolerance. This message is found in their lyrics where they openly speak out on their sexualities, giving kids the courage to be themselves.
"I love the way Brockhampton inspires their fans to be themselves and not be afraid to be different," said senior Sophie Jennings.
They have gained so much success due to all of their hard work but still showing that they genuinely enjoy what they are doing. They show confidence in what they do by calling themselves "the greatest boy band in the world," but rather than losing
fans by it, they are respected for it. They inspire their fans to be proud of what they do and to work hard at their passions.
"I really admire the variety in their music styles and the enthusiasm of the group in general really engages the audience in a way that I have never seen any other band do," said senior Zain Ali.
The band's hard work encourages teens to achieve their dreams in the music industry.