New Up-and- Coming artist: LIVVIA
Hang on for a minute...we're trying to find some more stories you might like.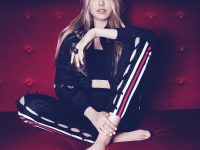 LIVVIA has been singing, writing songs, dancing, and playing piano and guitar for as long as she can remember. Originally from the Bay Area, she began traveling back and forth to Los Angeles at the age of 13 to advance her musical studies and career. When she was in her late teens, she toured internationally as a solo artist with such artists as Jessie J., Meghan Trainor, The Jonas Brothers and more. Now, a few years later, LIVVIA has embraced a more developed sound. She took the time in those intervening years to also grow and mature as a person – she's nearly completed her degree in Economics from the prestigious University of California, Berkeley. Along with the time spent on her studies, LIVVIA devoted a large portion of 2017 in the studio of the in-demand production and songwriting team Rock Mafia (credits: Selena Gomez, Miley Cyrus, ZEDD, Ariana Grande, and more) preparing her 2018 EP.