Varsity Boys Soccer Team put on a dominant performance as they beat Immaculata-La Salle High School 2-0 at the Sean Taylor '01 Memorial Field on Friday.
The game started with the Raiders having possession of the ball for most of the time. Even though no goals were scored in the first half, La Salle's goalkeeper received a blue card, causing him to be suspended from the game and replaced by a substitute player. The second half was when the action started: junior Taro Ochi opened the score card with a beautiful top right corner finish at the 62 minute mark, causing the Raiders to get a 1-0 lead.
"The goal was really important to the team because it shifted the momentum towards us and it allowed us to keep our winning streak alive," said Ochi.
Five minutes after Ochi's goal, senior and vice-captain, Tomas Sciarra, shot a ball at the goalie. The goalie rebounded the ball while leaving an opening for Sciarria to score, giving the Raiders their second goal at the 67 minute mark.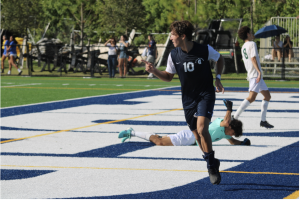 "My goal was very lucky, I should've worked harder for it, but it is what it is. I'm happy I contributed with the win," Sciarra said.
According to Scarria, he is excited about the current 4-0 unbeaten record the Raiders hold this season, and hopes to win states without losing a single game, getting to states with a 26-0 unbeaten record.
The game was originally supposed to occur a day earlier at La Salle, however, due to bad weather, the game had to be postponed and it was rescheduled for the next day at the Upper School.
"In any sporting event we have to adjust to the weather, especially in South Florida. We were lucky enough to even get the game to be moved to the very next day. The weather took a toll on these guys but they delivered, 2-0, a clean sheet, a great win," said Assistant Coach Federico Mor-Tatis.
The Raiders are back on the pitch Nov. 28 at 3:30pm, where they will face Westminster Christian School and hope to keep their 4-0 winning streak alive.