Playing as the team's libero and defensive specialist, Carolina Alfonso plays an integral role on the Varsity Volleyball team. For Alfonso, however, the true core is her relationship with her teammates, both on and off the court.
"My teammates inspire me the most because whenever I feel super overwhelmed or stressed, I'm reminded that we are all going through similar things and their continuous strength and passion for the game reminds me to just push through," she said. "It also reminds me of the support system we provide for each other," Alfonso added.
Alfonso gains extra practice by playing for the volleyball club Miami Hype to get better skills for the game in and out of the club. Although Alfonso plays for two teams, she has found distinctions in her experiences.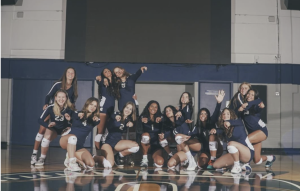 "When you play for your schools there's an extra level of pride you and your teammates play with because you want to represent your school and contribute to the program as much as possible. I feel like the club is more self-centered because girls are trying to get recruited and want to win at the highest level," Alfonso said.
For the Varsity Volleyball team, Alfonso and the girls have to go through hours of practice and conditioning, especially before important games like the recent state championship game this past weekend. Coaches push Alfonso and the team to their highest potential, ensuring that their performance on the court reflects their hard work. According to Alfonso, the team's chemistry helps to push through the heavy practice.
"I think it is the most important factor that helped us win states because even when we were down or losing, we had an unwavering trust in each other and we knew that we would not let each other fail," Alfonso said.
On Nov. 11, Alfonso and her team made school history when they won states. The program has never made it that far, and the Alfonso's goal since day one on the team was to win states with her team.
"Coming back after winning states was a major accomplishment. I think a lot of us are still in shock because even though we were confident, finally winning this and making history is just an unreal moment," Alfonso said.