Darriel Cannon, also known as "FatCat", is a freshman by day and a rapper by night. Some know him as a student, athlete, friend, or peer. However, listening to his music is an introduction to another compelling life he leads.
Cannon has rapping in his blood: he and his dad spend their free time freestyling to different beats together. What once was a hobby turned into a growing career.  It was when Cannon's favorite rapper, XXXTentacion, passed away that his dad sparked Cannon's idea to start his rap career. His father plays a prominent role in Cannon's career; he manages sponsorships, social media, and production.
"Well, my dad used to be an artist… and one day we said, 'we should actually do something with this' and I did that and it got like four million views, and ever since we just kept going from there," Cannon said.
Cannon's social media fame skyrocketed, reaching an impressive record of 143K followers on Instagram, over 300k listeners on Spotify, and 37K subscribers on YouTube. He has accumulated these fans over the years by collaborating with other child stars like "That Girl Lay Lay " and through promotions on radio music and talk shows, including 103.5 The Beat which also hosted his inspiration, XXXTentacion. For him, his fans inspire his music.
"When I'm writing music I just think of something that is going on, especially on stuff that I think other people can gravitate to and I just put it together. I feel like it's a good way to express myself to people who don't really know me. I have those songs that try to circulate kids in a good direction, to not do bad things. Stay in school, do not do drugs, and if you want something you have to work for it until you get it," Cannon said.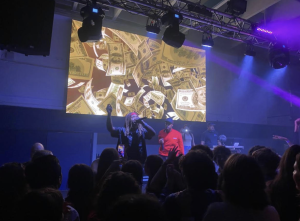 His humble yet outgoing personality is firmly expressed in his process of making and performing music. Not only does he make music to express himself to peers, but he also talks about current issues kids his age have to deal with. This is highly inspired by his main inspiration, XXXTenetacion, who Cannon said he gravitated to because of the message he sent through his music and how he gave back to the community. Through everything, he keeps the importance of being humble in mind.
"I feel like most people will not like you as much if you were like 'oh I have 142K followers' and brag versus if you were to stay quiet because no one likes a bragger," Cannon said.
Cannon sticks to his motto to stay free from vanity because there is always room for improvement. His ambition to grow his career along with growing personally follows him on his musical journey.
"To get to the next level you always have to believe that there is a next level, stay humble, and never change your character," Cannon said. 
On Sep. 29, Cannon released his new track "Part on da Block", conquering a new stage in his music career.