As part of their service project, the Dance Club is collecting care packages to donate to the Miami Rescue Mission. These packages include basic necessities for Miami's homeless population. 
The Dance Club spearheaded this project as a way to involve the school community. 
"The reason we do this is to take care of those who need to be taken care of within our community. I would love to see more student engagement in supporting those who are less fortunate than ourselves," dance teacher Ms. Gerri Barreras said.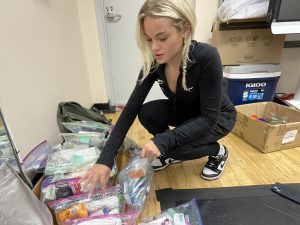 The club makes a significant impact on the community, collecting over 100 packages this year. These packages include basic toiletry items — such as deodorant, toothbrushes, lotion, toothpaste, socks, and more. Donations end on Nov 15; those who participate earn three community service hours.
During this holiday season, students in Dance Club feel lighthearted at the chance to support their community. 
"It felt good to participate in something that will help others," Dance Club President Fernanda Aizemberg explained. "It was good for the club to come together for the first project of the year."
Each of these care packages goes to someone in need, showing love and appreciation during this holiday season. The Miami Rescue Mission is a project wanting to aid the homeless — as emphasized by the Dance Club members' efforts — and show them that there is a way out.