Students in the Digital Mass Media signature program attended the National Scholastic Press Association Fall Convention in Boston this past weekend. The event included 4,759 students from all around the globe, coming together to network, learn, and compete in various areas of journalism.
"I honestly had such an extraordinary experience at the convention. It was so cool seeing students from all over the country come together for something we are all passionate about. The environment was filled with like-minded, intelligent people and it was amazing." said yearbook staff member Valentina Mouhaffel.
Students participated in on-site competitions, and attended sessions in a variety of journalistic areas. These events included print, photography, writing, digital news production, and broadcasting.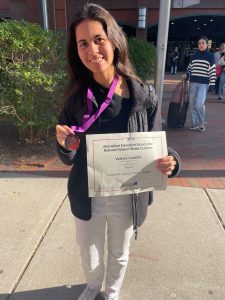 "My prompt was given to me on site and the room I was in had maybe just over 50 other students. We had two hours to do our commentary writing, and I didn't feel stressed or under pressure at all. It was a really fun experience,"  Newspaper Editor-in-Chief Sara Gelrud said, who earned an Honorable Mention.
Before arriving in Boston, a team of students from Ms. Monica Rodriguez's newspaper and yearbook crew had already entered online submissions to the convention contests. Many of the students were rewarded for their work, including Simone Marin, earning an Excellent Award in portrait photography, and Valeria Castillo, winning the highest honor, a Superior Award for the yearbook layout category.
"It was my first time going to a national convention and going to all the classes was amazing. In terms of the competition, I thought it was very competitive, there were many participants. That was amazing for me, I loved that competitive atmosphere," said Castillo. "I finished it before we went to Boston, and got in right on the deadline." 
The four-day conference mixed with the 29 students from the advanced multimedia classes made for a team-building experience for the group. Whether it was through workshops, sessions, or even just strolling through the streets of Boston, the team developed a strong bond.
"I was really proud of our team that participated in the on-site contests, this is the first time that we attended this convention and we did very well. Our students took the top three places in a variety of categories, and as an advisor, I couldn't be more proud," said Journalism teacher Monica Rodriguez. "One of the great things about attending conferences such as these is that they really do bring teams together."