Vice President Kamala Harris visited Florida International University recently as part of her Fight for Our Freedoms College Tour, where she and other prominent speakers emphasized the importance of students participating in politics.
I went as a volunteer representing and covering the event on social media for Voters of Tomorrow, a Gen Z-led organization that aims to engage young people in the political process. I'll admit, it was very exciting to receive an official email from the White House inviting me to the event, even if it was just an automated RSVP confirmation. (I may or may not still have saved it in my inbox.)
FIU didn't originally make the list of stops on the Vice President's tour. This fact, combined with the short notice of the visit for security reasons, might lead one to believe that not that many people would turn out. However, that was far from the case. I arrived just before one o'clock, and the venue was already packed, even though the event wasn't formally supposed to start until two-thirty. As my mom circled the massive Modesto A. Maidique campus in an attempt to find somewhere to drop me off, the sidewalks were packed with students and visitors, all streaming towards the Ocean Bank Convocation Center where the event was held. I met up with my fellow volunteer inside the center, which held dozens of rows of folding chairs filling up with what ended up being a headcount of about 5000 people. Members of the press and event coordinators with White House lanyards jogged back and forth, getting everything going while the marching band and color guard of Miami Central Senior High performed in the bleachers.
Soon enough, the event was kicked off by FIU Student Body President Alex Sutton, who valiantly kept the energy high for the hours prior to Harris' arrival and was a hit with the Panther audience, getting most of the room to "raise a paw." There were several other speakers prior to Harris' arrival onstage.Other speakers included Fred Guttenberg, father of Parkland victims and gun control advocate, cabinet member and head of the United States Small Business Administration Isabel Guzmán, and Miami-Dade Mayor Daniella Levine-Cava, who introduced Vice President Harris and also spoke about the importance of youth participation.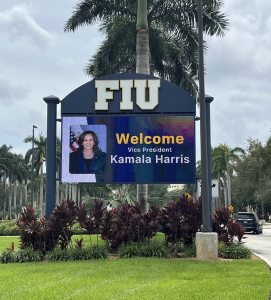 "The legacy that we leave as leaders now will lay the foundation for our future and the choices that we make will impact young people most of all, which is why I am so glad to see so many young leaders stepping up to the plate and so many are right here in Miami-Dade County."
The audience was cheering loudly for Kamala Harris even before she came on stage and sat down with the moderators in the armchairs, which added to the casual friendliness of the event.
"I do a lot of interviews, and people ask me, 'How are you feeling about the country and the world?' When I look out at this audience, I know our future is bright… I'm first here to say thank you. I'm here to say also that I think your generation is one of the most spectacular, special that we have seen in a long time," Harris said in her opening remarks.
"[W]e all know that any movement that has been about progress in our country has almost every time been led by college students, by young leaders, and that the strength and progress of our country has been reliant on the fact that we are committed to an expansion of rights, not a restriction of rights — similar to what some extremist, so-called leaders are trying to do here in Florida," Harris said.
She spoke about a variety of issues—voting rights, reproductive freedom, climate change—all ranking highly in surveys of sociopolitical issues that matter the most to young people, and she also highlighted some of the key agenda items of the Biden Administration. Mentions of the student loan forgiveness program received particular applause from the crowd of primarily college students.
A few students in the audience were selected to ask questions. One asked the Vice President about her thoughts on the sweeping abortion restrictions that were passed in multiple states since the end of Roe v. Wade, including Florida.
"One does not have to abandon their faith or deeply held beliefs to agree the government should not be telling her what to do with her body," Harris said.
Rapper Joseph Cartagena, a.k.a. Fat Joe, and Tony-winning actor Anthony Ramos (of "Hamilton" and "In the Heights") moderated the event, bringing equal parts of humor, earnest seriousness and SoFlo flair to the discussion.
Ramos opened the conversation on gun violence—a very controversial topic in Florida, the site of both overhauls of gun control and the infamous Parkland and Pulse shootings. Ramos mentioned that his cousin was a victim of the latter, and Vice President Harris proceeded with a simple, yet thought provoking question."Raise your hand and hold it up if you had to have, between kindergarten and high school, an active shooter drill at your school," she said.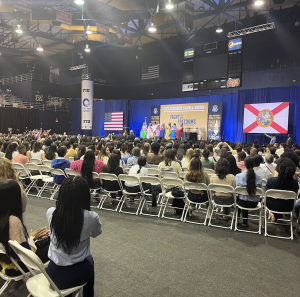 I raised my hand, and so did nearly everyone in the room. From my position in the third row, I turned and saw the sea of hands from the pit to the tops of the bleachers.
"I would ask the older adults to look around, and I would ask the media to take note," Harris said.
She went on to explain that she did not believe the Second Amendment should be repealed, but that gun control laws would serve to protect Americans from future tragedies.
"Assault weapons, designed to kill a lot of people quickly. There is no reason for them to be on the streets of a civil society," Harris said..
Harris also gave the students in the audience some advice. "In your career, you are probably, at different points in time, going to be discouraged from having ambition — from having aspirations. And I demand that you dream with ambition…Don't you ever hear 'no.' I like to say I eat 'no' for breakfast," she quipped, prompting laughter.
Ramos asked the Vice President how she retained a sense of optimism in the face of the challenges faced every day both in America and abroad.
"As the greatest democracy in the world, showing that democracy is as strong as its people are willing to fight for it – and we are willing to do just that. And therein lies my optimism," she responded.
Co-moderator Fat Joe, who was a constant and welcome source of lighthearted comic relief, finished the conversation by encouraging everyone in the room to, "Go to vote.gov and make your voices heard!"
There was a mad dash for the rope line as soon as the discussion ended, and I was nearly able to shake the Vice President's hand—seriously, the person in front of me was able to get to her. I may not have had the chance to meet Kamala Harris, but hearing her speak was a great experience, well worth the wait.
This marked Harris' sixth visit to Florida this year, and it's likely she will return. As the 2024 campaigns begin to ramp up, we will see a lot more action from both parties down here in Florida as the presidential contenders battle it out for Florida's whopping thirty electoral votes. Young voters, as Harris and the other speakers emphasized, are one of the most critical blocs to winning the election. Young voters are projected to make up more than a third of the voting population by 2024, so youth participation, judging by that sheer number, is likely to play a major role in deciding who wins when the time comes. Students across the country should expect to be courted by candidates left and right, including by this very tour.