Cobwebs dotted with plastic spiders covered the windows of classrooms while carved pumpkins sat on display in the atrium, adding to the eerie atmosphere on campus in preparation for Halloween.
Students and faculty celebrated Halloween yesterday, dressing up in distinct costumes and engaging in various activities set up by the Student Government. These activities, which took place during break periods in between classes, varied from pumpkin carving, to candy distribution, to costume contests including different categories such as "Best Historical or Literary Costume" and "Best DIY Costume".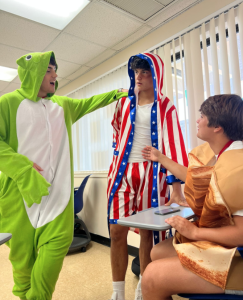 "I really enjoyed watching the costume contest although I did not participate myself," social science teacher Juan Pino said. "Allowing students and teachers to engage in the fun made for a strong start to the holiday season," he added.
Student government members took advantage of the holiday and got together to decorate the halls with all the Halloween supplies they had purchased only a week before. Numerous hallways contained Halloween-themed decorations to emphasize the spooky spirit. The hallway above the gym, for example, was decorated with dark red streamers and blood splatters on the walls.
"We wanted to implement an uncanny aura throughout the school; our goal was to design it better than last year to increase the overall Halloween spirit,"  junior class treasurer, Gigi Davenport said.
While many students came dressed in typical Halloween outfits, teachers came dressed to impress. The Counseling Department all dressed as Disney villains in an attempt to win the "Best Group" category in the costume contest. All these costume efforts made by teachers offered students a moment to appreciate their creativity, even during lessons.
"I loved seeing my teachers wearing strange costumes during class,"  junior Georgia Easton said. "It is interesting to see that the teachers are more engaged in Halloween than us students. Still, the passion that all my teachers brought that day made for a Halloween I would never forget."