After three decades of ups and downs, the University of Miami's (UM) football team is poised for a resurgence that could reshape their future on the gridiron. For fans who follow the Hurricanes through thick and thin, the team's recent seasons were especially tough. However, there's renewed hope that the team is ready to reclaim its dominance in college football.
From UM's golden era in the 1980s and 1990s, where they clinched multiple national championships and produced legendary players like Michael Irvin and Ray Lewis, to a less consistent performance in the early 2000s, the Hurricanes have seen it all. According to Sports Reference, from 2010 to 2022 they have finished as a top 25 team in the country only four times which is a step down when they had 19 top 25 finishes in the College Football Rankings, including four national championship wins, from 1987 to 2010. So what has gone wrong in recent years?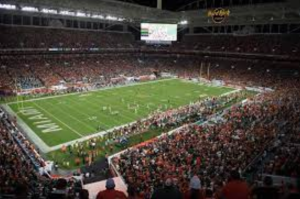 Key factors contributing to their recent downturn include inconsistent coaching, recruiting challenges, and increased competition from other college football powerhouses. Even then, the team has been steadily improving.
A major turning point in the team's fortunes this year came with the hiring of head coach Mario Cristobal. He's focused on reviving the program, instilling discipline, and building a strong foundation for the future which is something previous coaches weren't able to accomplish.
Additionally, recruiting efforts have improved, with the Hurricanes regaining their ability to attract top talent like 3 top 10 highschool players in the nation.
UM currently has 15 top 300 commits in their football program which would place them near the top of the 2024 recruiting class along with many powerhouse college football programs.
The team's defense, in particular, has been a standout feature this season, reminiscent of the dominant units of their glory days. The team's recent performances show signs of progress, with notable victories against Texas A&M (a top 25 team) and have recently been ranked as the 26th best team in the nation. 
Miami has not won a bowl game in seven years and fans are starting to get tired of it. Hopefully this team can bring the University of Miami back to where it belongs, which is on top of the college football world