Alumnus Robert Burns found a love for football at an early age. The scent of freshly cut grass, the roar of the crowd, and the exhilaration of competition ignited a fire within him that would guide his path to playing in the Chicago Bears. 
Burns started playing football under the guidance of his uncle, Herbert Goodman, who played at the collegiate and professional level as a member of the Green Bay Packers for two seasons. He credits his uncle for providing him with the exposure that would help him as he progressed in the sport.
"Everyone looked up to him in my community; he was a legend. That gave me motivation and realization of what I wanted to become. I strive to be a hometown legend like my uncle," Burns said.
Family was really important for Burns, providing him with the support and guidance he needed, especially growing up in a rough neighborhood. As high school approached, Burns came across an opportunity to choose among five schools, one of which was Gulliver.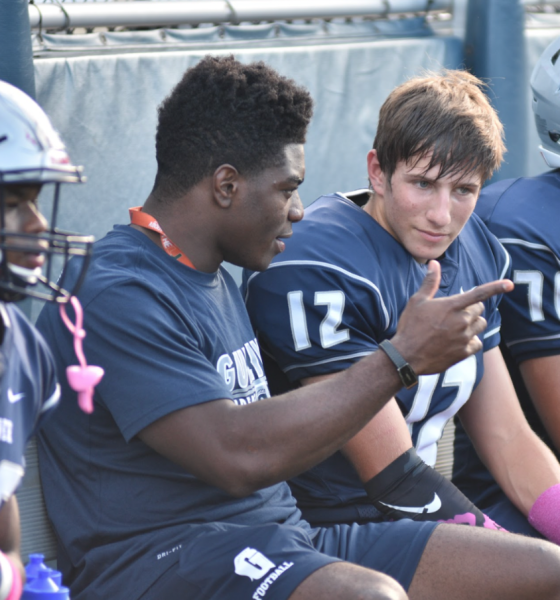 "Where my family was in Florida City was a little bit rougher. We were exposed to gun violence, drug trafficking, anything, you can name it. For good and for worse." said Burns. "My mother had one rule for me. I was not allowed to go to a local school and Gulliver seemed like the best option. The education was stellar plus the football team was great and I knew I could do some good in the program," he added. 
Despite the move to a new high school, there was one notable problem for Burns: how he would get to school. Burns had to take a bus from Florida City to get to Dadeland and then had to walk to school. Eventually, during his freshman year, Burns met a teammate named Juan Vega. Vega lived close to school and shared Burns' passion for football. They got along quickly and one sleepover eventually led to Burns staying with the Vega family during the week.
"It was a relationship where Juan became my brother and I started calling Mrs. Vega 'mom' and Mr. Vega 'dad' " Burns said.
As high school came to a close, there was a crucial decision Burns had to make: choosing a college where he could continue his football journey. Ultimately, he decided to attend the University of Miami (UM) for a number of reasons. He felt UM had a good business program along with its memorable football history. The university was also close to home as his family was right around the corner. Even then, what sold him to go to UM was the Fellowship of Christian Athletes (FCA). He wanted to be in a program where he could continue to grow spiritually and UM offered that. 
"[M]y core faith is all I have. I was able to talk to the team chaplain and get an idea and feel for the program on how they were going to develop me spiritually." said Burns.
Stepping onto the college field, Burns brought his all but didn't see as much time on the field as he would've liked at UM. That is when he ultimately decided to transfer schools and take his master's at the University of Connecticut. 
"Making the decision to go to UConn was tough, but what I was looking for was to be in a business-oriented program, and I felt UConn offered that," said Burns. 
Being the leading fullback for the Huskies, Burns got the call to join the Chicago Bears this summer. With hard work and dedication, Burns didn't give up on himself and got the job he always wanted.
"It was just everything you can imagine and more. Working for something your whole life and then it coming down to one call is crazy to think about. It was amazing just being around family, friends, and loved ones." said Burns about his call from the Chicago Bears. 
Burns' journey is not done yet. Aside from pounding on the gridiron, he is also pounding his way to becoming a top businessman as he founded an app called Dormhub. It's a mobile app where students can find housing with ease including its special features. From making shirts during middle school to creating websites Burns has truly made an impact for himself on and off the field.
Listen to "In Season Episode 3: Conversation With Rob Burns" to hear to more of Burns' story.