There have been more mass shootings this year than the number of days in the year, many of which have occurred on school campuses. Discourse prevails inside many classrooms after the recent racially-motivated shooting at a Dollar General in Jacksonville, Fla., and a shooting at University of North Carolina-Chapel Hill on Aug. 28. with emphasis on campus security and arguments upon how the issue of gun violence should be handled.
"We have a system that locks everything down very quickly if we have to. And everyone is trained, you know, in how to approach if we were to have some kind of an incident like that… We work really carefully and closely with [the city of] Pinecrest. They actually do trainings here, so they know our campus," said Upper School Principal Jonathan Schoenwald, acknowledging two of the many security regulations that have been put in place.
Upper School Principal Jonathan Schoenwald explained that there are, in fact, armed police on campus and there are many more measures that have been put in place to ensure campus security.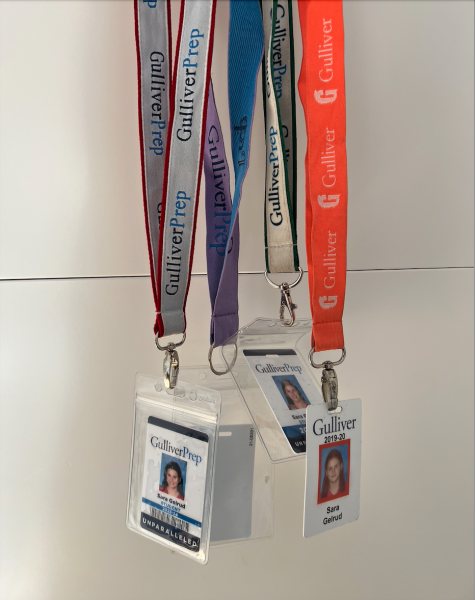 Other security measures involve simple things like wearing a school uniform, wearing a school ID, and making sure that classroom doors are locked.
"The whole point of having locked doors is that we know the research shows if anyone were ever to come into campus and try and get into places, a locked door is the best deterrent," Schoenwald said. "[Uniforms and IDs are] also about safety and security because that's one way to identify who goes here," he added.
Schoenwald acknowledged that with all of the security measures, it's important to still make school feel like a place where students feel free: not like a prison.
"You know, you want to be safe and you want people to be very, very secure as soon as they step on the campus, but not to the point where, like, they can't walk around," he said.
While all of these measures help to ensure campus safety, gun violence is still on the minds of students and teachers.
"I lost my partiality and I'm not afraid to say it… I lost it because I think the time has passed for us to do something about guns in this country… I'm tired of the 'Oh, let's pray for them.'," IB Global Politics teacher Theodore Daniel said.
For teachers like Daniel, gun violence is something he is unapologetically candid about when discussing it with students.
Mateo Lowe, a senior in Daniel's class, shares similar views to that of his teacher.
"There's a dilemma in the Congress, both federal, state, and local levels, where they don't want to ban guns, but it's absolutely necessary," said Lowe.
In January, the Senate introduced a new bill to ban assault weapons. The bill, if passed, would make it "unlawful for a person to import, sell, manufacture, transfer, or possess, in or affecting interstate or foreign commerce, a semiautomatic assault weapon" unless "lawfully possessed under Federal law" on or before the bill passes. Of course, those opposed to this bill are concerned that it encroaches on the Second Amendment.
Wavering views on how to handle the issue of gun violence consequently brings into question many different interpretations of the Second Amendment. For senior Fernanda Aizemberg, the Second Amendment is a crucial aspect of the United States. 
"I think that having the Second Amendment in the U.S. makes it a lot safer because in other countries like Brazil where I used to live, for example, only people who do bad things are armed so innocent people don't have any way to protect themselves… Everyone has the opportunity to protect themselves," she said.
From Daniel's perspective, however, the Second Amendment means something completely different and outdated.
"You're assuming that the founding fathers many years ago knew that AR-15 was available," he said. "So to me from what some people are telling us it means, in totality, all of us should be able to carry any arms whenever we want and that's the problem with this kind of loosey goosey attitude where no checks must be under Second Amendment because all of a sudden they told us we need it for protection of security," he added.
While there are undoubtedly mixed opinions on gun rights, a common consensus can be reached that school safety and security is extremely important, now more than ever.
"[The police on campus] are acting in the federal interest and the interest of our schools. However, only police should be armed, no one else," said Lowe.