Seniors welcomed the start of the new school year at a sunrise gathering on Aug. 15. The event took place at Crandon Beach in Key Biscayne, and gave members of the Class of 2024 a chance to reunite with their friends before the start of the school year.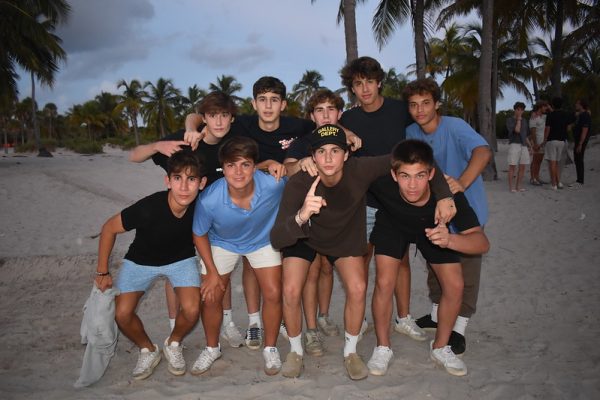 "I had so much fun talking to all of my friends during the event," senior Nicolas Perez said, "it was a great way to begin the year and come together as a class."
Senior members of the Student Government (SG) spent two weeks planning the event. According to Student-Body Secretary EllaRose Delgado, their goal was to continue the tradition of coming as one, bonding as a class, and beginning Senior Year of high school on a high note. For Delgado, Senior Sunrise was a success.
"It was great to see so many seniors show up and enjoy something that we had been planning for quite some time," Delgado said, "I am so glad that we were able to prepare and make this happen."
Along with SG members, members of the  Parent Association (PA), helped with decorations, drinks, and treats for the Seniors to enjoy.
"Not only did I enjoy setting up Senior Sunrise for the seniors, but also seeing their smiles as they reunited to start their Senior Year," PA member Andreina Figueroa said.
Although "Senior Sunrise" took place in the early morning hours, Seniors experienced some high temperatures and rain. However, they did not let that stop them from having a good time.
"Even though there was rain, heat, and a lot of mosquitos we did not let that get us down," senior Fernanda Mazariegios said, "We had a lot of fun and I am excited to see how this year plays out."