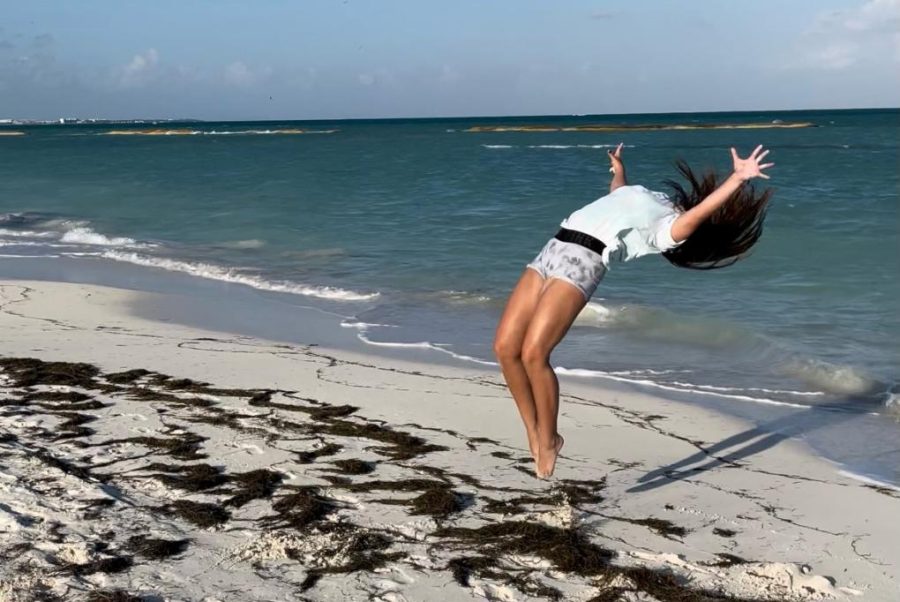 Freshman Micaela Donoso: Returning to the Beam
How does one recover after a misstep?
How does one regain their balance after falling off the beam?
For freshman Micaela Donoso, her favorite sport has not been the same since Aug. 2019, when she badly injured her ankle at a gymnastics competition.
Donoso had high hopes for the competition, until she was performing her first event on the high beam. She went for a back handspring during her routine on the beam when her foot suddenly slipped off, landing on her head instead of her hands.
The consequences of this accident were not felt until a day later, when Donoso woke up to a bruised and swollen ankle. This wasn't the only injury she faced; the accident also impacted Donoso's mentality towards the sport as well.
"It was the first event, so I felt frustrated and anxious. I thought I was going to cause the failure of my team," said Donoso. "Now when I step onto the beam, I get scared that I'm going to fall and get injured again. I don't have the same confidence I once did."
Gymnastics is difficult not only physically, but also mentally. Donoso mentioned that it is important to be mentally prepared, especially because of the incredible pressure placed on each athlete by their coaches. If gymnasts are not mentally prepared for the incredible skills they plan on executing, then things can go wrong very fast even for the greatest gymnasts. 
Donoso has chosen to view her injury in a more positive manner.
"As I got injured, I feel like it helped me view what coaches actually expect from us," she said. "It's not always about putting pressure on us. It's actually more that they want us to be the best ones and have fun at the same time."
Her injury also made her realize just how difficult gymnastics truly is.
"There are some kids that say, 'oh, it's easy to do a back tuck.' But now take that to a competition and put a whole routine to that. It's not easy. As levels go up, they get really, really hard and you'll do four events, not just floor, beam, vault, or bars," she explained.
Nevertheless, Donoso continues to nurture the fire that ignites her passion. After being absent from the gym for six months, her love for gymnastics only grew.
"I remember the first month I was going crazy. I wanted to go back to the gym, so I did and I started only doing bars and skills where I didn't need to use my ankle. That's when I realized I really liked the sport," she said.
Donoso returned to the gym a month after her injury and has been training for an hour and a half nearly every weekday. Balancing her schoolwork and gymnastics has been difficult, so Donoso takes every chance she gets to get her work done, whether that be in her Directed Study period or in the hour between school and practice.
"Right now I've been trying to do my best, but I don't think I'll get to compete again because as I'm getting older, school is getting harder," she said. "Now when I look back, I think, 'I'm going to do it for that girl who I was before who was scared to do everything and when she did it, she got injured, so I'm going to do it for my younger self.'"