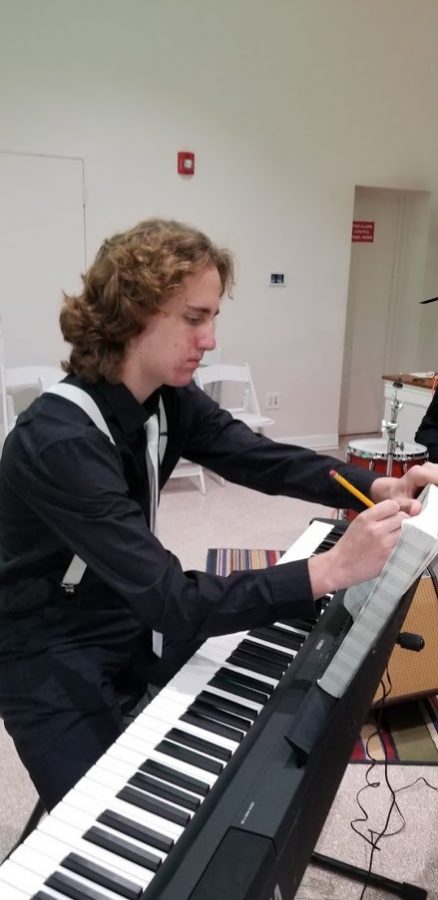 Junior Jason Fieler Conquers the Musical World By Bringing People Together
Junior Jason Fieler considers music one of his greatest passions and has released multiple albums throughout high school, including his most recent 20-track album "Visit the World."
What first got you into music?
I was driving to Tampa when I was nine years old on Labor Day weekend in 4th grade (2013), and since I had been obsessed with the music app "Magic Piano" by Smule, and since my family actually had a very small two octave keyboard, we decided to bring it along with us on the trip so I could start learning a bit. Since my mom played flute and a little bit of piano when she was younger, she was able to help me get started and I just quickly fell in love with it so almost as soon as we got back to Miami after that trip, my parents found a teacher and I just started taking lessons for piano to get better.
Who inspired you to make music?
I was very heavily inspired at first by just the urge to learn how to play my favorite songs on the radio… I then became obsessed with many other groups of different genres, like jazz which I got more into around 2018, so I became inspired to write things that were more geared toward mixes between rock and jazz and stuff instead of just rock, so that expanded my horizons a lot.
How would you describe the music that you typically create?
I would describe my music as a good blend of jazz, pop, folk, and progressive rock. I really love all those genres, and many of my songs aren't written like a "singer/songwriter" would write them, as I typically write music with the entire soundscape of the song in mind, rather than just chords/lyrics/melody, because a lot of my music has a lot going on in terms of production instead of just something like piano/voice. I love using as many sounds as I can possibly find, like different guitars, pianos, wind instruments, percussive instruments, and random sounds around my house. This makes it all feel very homey and real because I try to put a lot of emotion into everything that I record, which gives it more of that intimate feeling even if the song is something more bombastic.
What is your creative process like?
Typically when creating a song, I'll decide what "sound" I'm going for in general, or what feeling I'm trying to convey in its creation. For example, one of the most recent songs I've made was created with the hope of conveying a feeling of camping in a midwestern state like Wisconsin or something, sitting at a campfire singing a song while playing guitar. I wanted it to seem very calming yet interesting and hopeful, but with a hint of regret. Then I decided that it would start with voice and guitar with a simple rhythm and melody, but would then develop to have more instruments like bassoon, kalimba, marimba, and many more vocal harmonies. I did this all with the original intent of the "sound" I wanted in mind to make sure that nothing I did strayed from the feeling.
Can you tell us about recent projects you worked on?
My most notable recent project was my album entitled "Visit The World." It was released October 2 of last year and contains 20 tracks total. It was going to be my first album that contained my vocals, which was exciting, but I knew I had to make it as good as possible and I wasn't going to release every song until I was proud of each and every one of them. Each song was an absolute blast to create, but the most fun were the ones I did with others. It currently has over 6,000 streams across streaming platforms, with the most popular song being "Think of You (Feat. Emma-Grace Delvillar)" with around 1,500 streams. 
One other thing I did recently was a set of five jazz standards which I randomly decided to record at my piano on my phone one day. I had been practicing them all a lot recently, which was fun because they all contain vocals and I don't usually practice jazz vocals and piano at the same time. The best part was this one comment I got on the Youtube video for it, which said "It's 2AM in Finland, Jyväskylä and I've spent the night revisiting my childhood through old pictures.. Forgotten memories are coming back, and with them come tears, laughter, anxiety and love about the past and the present. Amidst this all I keep repeating this video..  Your singing and playing makes this all feel a bit less empty. Thank you <3️". This was a huge honor because I've had problems for a while with people perceiving music that I create to be too complicated and not to have any emotional value. So the knowledge that something that I created could have such an emotional effect on someone was amazing, and it made it all worth it.
What projects are next for you?
Unfortunately, it's currently the second half of my junior year of high school, which is not a good combination of words if you want to have free time. Despite this, I am slowly making my way through a few songs I've been holding onto for a while. Among these are a Bon Iver-esque folk tune with guitar, vocals, and light percussion, an instrumental jazz fusion song, a gospel inspired emotional slow tune, a rock ballad, and a soft Latin jazz chart. I also want to make a better Christmas album this year, which I won't have to rush because hopefully I'll have more time after this next album gets put out to do that. Something else I hope to do throughout the next year is record more with other people, which I already do to an extent, but it's so much fun and I want to do it even more. But overall, what's next for me is to just keep making music whenever I can because it's what I love doing, for me and for anyone and everyone who chooses to listen.