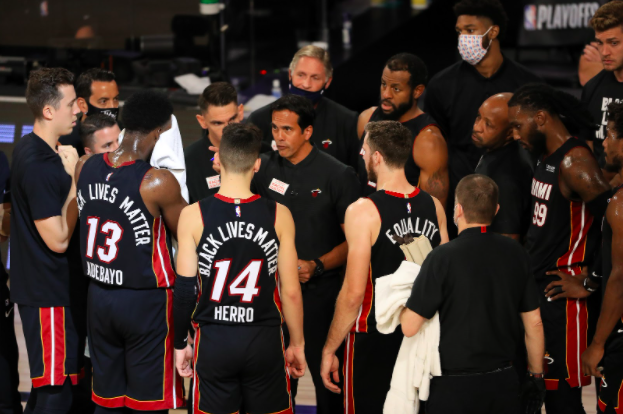 (Mike Ehrmann/Getty Images/TNS)
Heat Beat Bucks in 5, Advance to Eastern Conference Finals for the First Time Since 2014
September 15, 2020
On Tuesday, the fifth-seeded Miami Heat finished off the first seed Milwaukee Bucks in the Eastern Conference semifinals, which means the Heat will be facing off either the Boston Celtics or the Toronto Raptors in the Eastern Conference Finals. This will be their first appearance since 2014. 
Miami has been absolutely dominant throughout the playoffs, only losing one game out of nine — a big reason for that was their defense. Miami easily swept the Pacers in four games and then faced the Bucks in the semifinals. Milwaukee, also having swept the Orlando Magic in the first round, had lots of momentum on their side going into the semifinals. But as always, the Heat had their usual underdog mentality and shut the Bucks down within five games. 
Miami's defense was impenetrable for the first two games, keeping the Bucks from making an impact on offense. One player that really stood out in this series was Heat rookie Tyler Herro. Herro has proved that he can be trusted with the ball in any scenario and always has a calm head, a rare trait for any rookie. He's got the whole package and plays like an experienced veteran. The 20-year-old is already showing signs of greatness, and he has loads of confidence to take that last shot.
NBA legend Isiah Thomas commented on his confidence and playing style. "He's the complete package as a basketball player," Thomas recently told the Miami Herald. "Not only can he shoot it, he has patience. He's got a low-pocket shot, so when a defender is on him he can take it to the basket and has the nice little floater and touch. Left hand, right hand, around the basket. He's capable of doing anything with the basketball." 
Herro will definitely be one to watch for the future. After all, he's only 20 years old. The Heat are currently waiting to either play the Boston Celtics or Toronto Raptors in the Eastern Conference Finals, with the first game being Tuesday, Sept. 15.