2015 Raider Yearbook Earns a Silver Crown at CSPA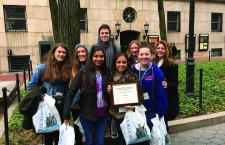 On Mar. 15-18 a group of journalism students attended the 92nd Annual Columbia Scholastic Press Association Spring Convention in New York City, along with journalism teacher Monica Rodriguez. In addition to attending the convention, members of the 2015 Raider yearbook were presented with CSPA's Silver Crown Award.
Yearbook members were proud to receive a CSPA Crown, especially since The Raider was one of only two high school yearbooks in Florida to receive the honor.
"It was nice to hear our name called at the Awards Ceremony along with the top books in the country. It's something we've always worked hard for and it was such a great feeling to know we were getting a Crown," said co-editor in chief Maya Dhairyawan.
The Awards Ceremony took place on Mar. 19th, as part of the closing ceremony of the convention. Throughout the three days prior, students attended a variety of journalism-related
sessions throughout the Columbia University campus. Course topics covered all facets of student publications from desktop publishing and digital media topics, to photography and ethics.
"Columbia is an amazing school, and I enjoyed exploring the campus," said freshman Rylee Podrog, who attended the conference.
Besides attending the conference, students got a taste of real-world journalism by touring the offices of the political magazine, the Nation, and speaking with editors and interns.
"After we toured the Nation, I was able to see myself pursuing a career in journalism in the future," said sophomore Isabel Solorzano.
After a long day of classes, students enjoyed all New York City had to offer. Activities included ice skating at Rockefeller Center, visiting an all- chocolate restaurant and watching the Broadway show On Your Feet. After the show, they had the opportunity to meet the cast, most of whom were from Florida.