In the middle of the Boston's bustling  Prudential Center  lies a representation of America's multicultural and welcoming spirit. The Fleurs de Villes Showcase art exhibit, which runs from Nov. 2-6, features displays of colorful, live-floral botanical mannequins carefully created by Boston's local florists , representing 16 different countries and unique aspects of their cultures. Visitors can see the pieces displayed throughout the Prudential Center mall, with one piece located at the View Boston observatory, on the 52nd floor.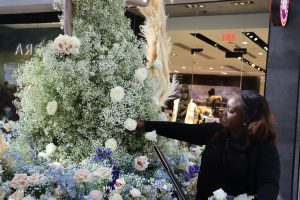 "So the Fleur de Villes company reached out to me to do a floral arrangement for this Bermudan mannequin," Founder and Owner of Yanique Events, Yanique Shaw said. "The touristing board of Bermuda really wanted to highlight an arch located in their country that they love and is really popular, that is why we did the Pampas grass arch."
The colors and themes of the mannequins represent something unique of each country. One example is the vibrant, loud marketplaces – or souks – in Morocco. These souks, which are prevalent all throughout the country, are filled with textiles, food, drinks, jewelry, gold, rugs, clothes, and souvenirs. The chaos of the souks are showcased with the explosion of color and wide variety of flowers used in the arrangement.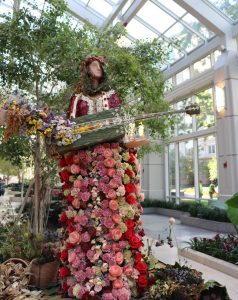 With the theme of the showcase being "Voyage", the art is designed to guide visitors into an alternate world of discovery through culture. Fleurs de Villes, which translates to "Flowers of the Cities" stays true to their name, presenting their masterpieces at various destinations such as Los Angeles, Chicago, Toronto, Vancouver, New York City, and Boston.
"Well it is quite an interesting array, how a lot of the countries chosen seem to be more tropical and seem to have connections like Bermuda, Puerto Rico," tourist Ken Nimblet said. "I might have expected that they would have England or France, but they went a different route, more tropical places, that we may not think would be the mainstream of work like this, but they made it clear that it should be."
The live floral exhibit had an uplifting and positive effect on some of the visitors. 
"I think it is absolutely beautiful and it puts people in touch with nature and culture, and makes you appreciate it even more," tourist Beverly Cote said. "It's at every turn, and it honestly is refreshing."