Rather than sleeping in during their day off from school, the yearbook staff was on campus bright and early Friday morning, ready to participate in their annual Yearbook Design Workshop. For the workshop, Walsworth Publishing's Design Consultant Jim Jordan joined the group for a full day of mentorship and collaboration.
The team started their day at 8 a.m. with a presentation on visual design and theme development by Co-Editor-in-Chief junior Julia Fogell. From there, the staff went on to discuss each of their spreads with Jordan and Yearbook Adviser Monica Rodriguez.
"At first I wasn't the happiest about having to come to school on my day off, but when I saw all the hard work that I did, I was really proud and happy with it," People Editor freshman Sadie Scheiner said.
With the yearbook staff split into two separate classes this year, the team was happy to be united and to work with one another.
"It was really nice to get design tips and have a second pair of eyes look at our spreads," freshman Francisca Binello said. "I also really liked that the whole team was together, because I hadn't even met some of them yet," she added.
The 400-page yearbook publication takes months to put together, with the process beginning in the summer. Rodriguez felt that the workshop provided an opportunity for the staff to get to know each other and work with one another.
"We don't have a lot of time to get together with the entire staff, especially with how fast our deadlines approach, so having this time is invaluable, and having Jim Jordan here to provide us with feedback made it all the better," said Rodriguez.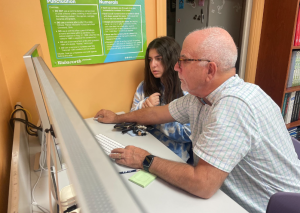 Jordan, a former nationally-recognized yearbook adviser, flew in from California to work with the yearbook staff as they developed their overall visual design for the year.
"I loved getting to know the very eclectic group of students, designers and writers, who were all working hard to make the 2024 Raiders another amazing yearbook," Jordan said.