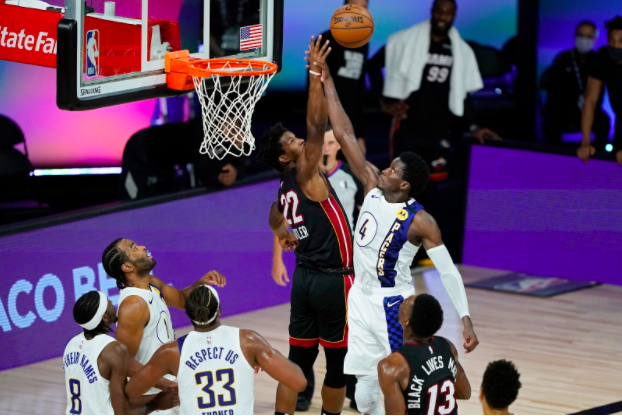 The Miami Heat defeated the Indiana Pacers 99-87 to close out the series with a four-game sweep on Monday night in the first round of the NBA playoffs. Goran Dragic led the charge, dropping 23 points. Center Bam Adebayo scored 14 points, along with grabbing 19 rebounds and six assists for the Heat. 
The Heat were absolutely dominant both offensively and defensively. The Pacers were out-rebounded by the Heat 34-60. In addition, The Pacers's bench were humiliated, outscored by the Heat's bench, 3-41. Star rookie Tyler Herro came off the bench strong and scored 16 early points, playing a good 32 minutes of the whole game.
Although Miami won this series with no losses, the Pacers fought a hard battle. It would be wrong not to give credit where it's due. A breakout star since being in the bubble was the Pacers' small forward, TJ Warren. Since the restart, Warren averaged 31 points per game on 57.8% field goal percentage, according to Eric Woodyard of ESPN. But despite Warren's efforts, The Pacers were no match for Miami's physicality.
"If Miami can continue to find different ways to win the games, they will be a tough opponent in the second round to whoever they face," said local fan, junior Alexander Dalmau.
Heat fans had a scare when their star forward, Jimmy Butler, exited the game early in the first quarter after what appeared to be a left shoulder strain. Butler was apparently having issues with his shoulder before Monday night's game, and was listed as questionable to play. 
"I was hoping it would cool down, but it didn't," Butler told USA Today about his injury in an interview after the game. "I'll be okay though."
A four-game sweep should give the Heat some much needed rest before they take on the winner of the Milwaukee Bucks against the Orlando Magic series.
Click here to see the next update on the Miami Heat's performance in the NBA playoffs.