Drama Department Presents "Our Town"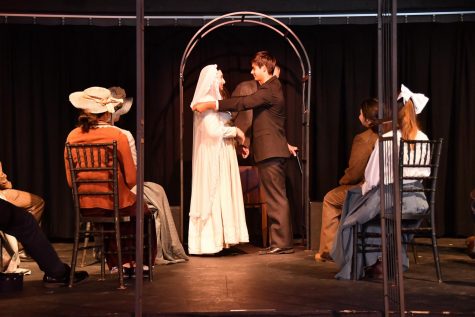 Last weekend, Drama students presented their production of "Our Town," a three-act play written by Thorton Wilder.
Students performed the play on Friday and Saturday night and put together a matinee of the show on Friday afternoon during 7th period for students in English classes. The play received positive responses from their audience.
"Even though I could only attend the matinee, I loved every second of it," said senior Eda Aker. "The actors were talented and portrayed their characters amazingly well, I almost cried at the end."
The play is about an American town in the early 20th century; the protagonist is the stage manager who interacts with the audience and explains the setting. Other characters include George and Emily whose childhood and adulthood the audience follows.
"Our Town was about life, love, and death, and it's about looking back on life and realizing just how much happens when you're not paying as much attention and learning to appreciate the little things," said Junior Anya Paiz.
Students were given an open-ended selection of plays they could perform and they voted on "Our Town." After doing a read-through of the script and choosing which version they would perform, all students seemed on board with the decision.
"It was exciting to see how enthusiastic they were of a play that lacked spectacle," said drama teacher Jessica Fox, "The general rule of thumb is, the more mature the performer, the less spectacle you have, usually in educational theater there is a lot of flashy sets, big costumes, dance numbers, to draw attention, but this was more sparse so kudos to them for choosing this play." 
Drama students are preparing for their Individual Events Districts competition next week. The intermediate class will soon present a blueprint about the teenage brain and how it develops, and other shows such as "Arsenic and Old Lace" will take place throughout the year. They also look forward to their spring musical production of "In the Heights" which will take place at Pinecrest Gardens.