World's biggest soccer tournament sits on the horizon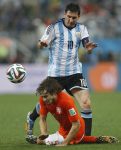 Now that all groups, matches, and dates are settled, the 2018 FIFA World Cup is sits just over a month away. Over the past year, 32 countries competed in order to qualify for the 2018 Russia World Cup, which starts on June 14th and ends on July 15th. This Cup will feature national teams that have played nearly every year, such as Brazil, Germany, Argentina, and Italy, as well as countries who have never or rarely participated such as Iceland, Panama, or Senegal. The event will take place in Russia, in twelve different cities around the country. The stadiums have already been constructed and selected and all the group stage matches have been scheduled with their designated stadium assigned.
The mascot and the official ball have been announced and named, and the sticker album has been released. There are just a couple weeks left before fans can enjoy the 21st World Cup to the fullest.