Mural Showcases Senior's College Acceptances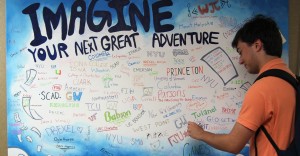 As college decision deadlines near, seniors hasten to choose the path of their next journey. To celebrate this achievement, the Guidance Counseling department and Art Honor Society collaborated to create a large mural, showcasing the schools to which students were invited to continue their academic careers.
The Guidance Department introduced the idea of a college acceptance mural as a branch of this year's "imagine" theme, initiated by Head of Schools Frank Steel.
The mural, entitled "Imagine Your Next Great Adventure," served as a visual display of the hard work and accomplishments of the graduating class of 2015.
"We've received overwhelmingly positive responses from students, parents, and teachers regarding the mural," said College and Guidance Counselor Warren Zucker.
While many seniors admitted to having mixed feelings towards the end of their high school careers, these sentiments are surpassed by the excitement of entering a new learning environment.
"I'm extremely excited for college. Although I'll be in the same city, it'll still be a fresh start—and the campus is beautiful," said senior Sofia Dacharry, who is attending the University of Miami in the fall semester.
To prepare underclassmen for the strenuous application process, the Guidance Department hosted its Annual Rising Junior College Night on Monday, Apr. 27 at the Prep. The event featured presentations by Vanderbilt University, Georgia Institute of Technology, Agnes Scott College, Emory University, and the University of South Florida. Each school's representative offered advice and suggestions to approaching the college search.
The Associate Director of Admissions and Miami-Dade County Representative of Vanderbilt University, Jason McGrath, emphasized what to consider before applying to a certain level of school.
"I advise students to not only look at prestige, but complete fit of a university," said McGrath, "The most important factor is an overall balance. Big or small, there is a school for each and every type of student."
As for increased chances of acceptance, college counselors stress the importance of becoming as marketable and appealing a candidate as possible. By excelling in high-level classes and developing a "hook," applicants offer more that the solely academic achievements of their competitors.