The Evolution of Girl Scout Cookies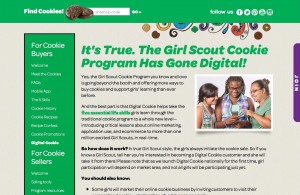 Girl Scout Cookie sales are coming to an end after one of the most anticipated fundraising events of the year. However, the original homemade cookie sale has evolved into a commercial campaign, providing healthier options intended to target a wider audience as well as charging higher prices per box.
Sophomore Madison Artzt, a Girl Scout for the past 9-years, considers the modern means of marketing a positive advancement.
"When I was younger, I towed a cookie-filled wagon around my neighborhood and knocked door-to-door. This year I mainly sold to my schoolmates and through a convenient online webpage. It took less effort and I had more business," said Artzt.
The Girl Scout cookie fundraiser began in the early 1900s, the revenue as a means to finance troop activities and events. The first recipe was a simple homemade sugar cookie. Since then, approximately 40 types of cookies have been discontinued and new healthy, vegan, and gluten-free options made available.
"I've always loved Thin Mints," said English teacher Adam Schachner, "The new vegan alternative is an added bonus."
While the option of ordering online is offered, many customers prefer to purchase the cookies from stands set-up in front of supermarkets and neighborhoods, sold by Girl Scouts themselves.
"I can never say no to little girls selling cookies," said senior Corina Scheuren, "I see the same excitement on their faces as I had behind my childhood lemonade stands."
The most controversial issue surrounding Girl Scout cookies is price inflation. Today, prices fluctuate from $3.50 to $4 by regional Girl Scout council—a dramatic increase from the original 25-cent box.
"Even though I miss cheaper boxes, I can't stop myself from buying several. They're still the same delicious treat," said sophomore cookie-fanatic Matthew Kirsner.
Regardless of numerous alterations in the product, the countrywide sale of Girl Scout cookies continues to share the common goal of teaching young women skills in teamwork, communication, and ambition.