Gulliver Athletic Hall of Fame Induction Ceremony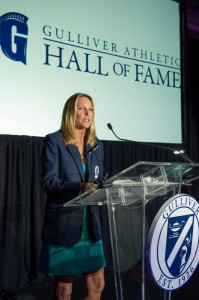 On Saturday Nov. 8, alumni and supporters of student athletics gathered in the Prep gymnasium for the 2014 Athletic Hall of Fame induction ceremony. Five inductees, one coach and four alumni student-athletes, were honored in this biennial event.
The 2014 Athletic Hall of Fame inductees honored included Paul Rodger Wallace ('84), Matthew Sullivan ('88), Shundra Colzie ('99), Bryan Sharkey ('05), and Coach Kelly Mulligan.
"It was such an honor to have been inducted. The night was spectacular and a true highlight in my coaching carreer," said 2014 Hall of Fame inductee tennis Coach Kelly Mulligan
Master of Ceremonies, alumnus T.J. Villamil, introduced each inductee with a personalized video to commemorate their successes.  One by one, student-athletes; Victoria Rios, Alexandra Guerra, Jowan Watson, Antonyo Sotolongo, and Allison Keller, escorted the inductees to the stage to accept their award.
"It was a privelege to meet former student athletes and see them honored for their successes," said senior Football player and track runner Antonyo Sotolongo.
Although there are currently only former athletes and coaches inducted into the Hall of Fame, there are possibilities of future team, administrator, faculty, and athletic supporter candidates.
"We are hoping to induct a team into the Hall of Fame next time around," said assistant Athletic director R.C. Ganser.
The ceremony concluded with the disclosure of the marble Wall of Fame located at the entrance of the Prep gymnasium; where all past, present, and future Hall of Fame inductees will be recognized and displayed.